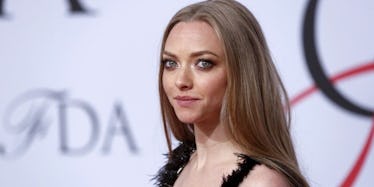 Amanda Seyfried Is The Latest Victim To Have Nude Photos Leaked By Hackers
REUTERS
Hollywood has a hacking problem, and Amanda Seyfried is the latest star to become a victim.
Nudes of the actress — pictures including "intimate moments" with her ex — have been stolen and published online without her permission, TMZ reports.
It's part of the same hack where Emma Watson's private pictures were stolen this week.
Lawyers for Seyfried — who starred in "Mamma Mia!" and "Les Misérables" — sent a strong letter to the website, Celeb Jihad, where the images have been published.
It reads,
Several very private photographs of Ms. Seyfried either in various states of nudity or in intimate moments with her former boyfriend (the "Seyfried Photographs") have been reproduced and posted.
It goes on to state the pictures were illegally obtained by a third party, and the lawyers demand they be taken down immediately.
Seyfried is currently pregnant with her first child and is engaged to Thomas Sadoski.
The latest leaks have been dubbed "Fappening 2.0" and have raised fears of a repeat of the 2014 scandal where Jennifer Lawrence and Rihanna were among the victims.
The images of Seyfried are from her time with actor Justin Long, whom she dated between 2013 and 2015, though it is not known whether they were stolen from him or her.
It is believed the nudes have also been posted on the dark web.
Watson, whose lawyers have also taken immediate action, and Seyfried have joined the list of female celebs to have been hacked in recent months — because you're not allowed to have a sex life if you're a woman in Hollywood, apparently.
Emily Ratajkowski had as many as 200 naked pictures stolen from her iCloud account, it was reported last month.
Topless pictures of Lucy Hale, star of "Pretty Little Liars," surfaced online toward the end of last year. She had sent them to a friend over text, but they appeared online without her permission.
And teenage "Game Of Thrones" actress Maisie Williams was also a victim of stolen nudes, reportedly from a private social media account.
Citations: AMANDA SEYFRIED TAKE DOWN MY LEAKED NUDES! (TMZ), Amanda Seyfried threatens legal action over leaked nude photos of her with her ex just a day after Emma Watson revealed her personal pictures had been stolen (MailOnline)