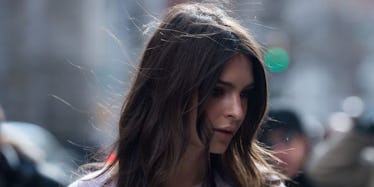 Emily Ratajkowski's Nude Photos Have Been Leaked In Another Online Hack
REX/Shutterstock
Emily Ratajkowski is reportedly the latest target of hackers who have been leaking personal nude photos.
According a recent column in Daily Star, the 25-year-old actress and model has allegedly had as many 200 private nude photos leaked online after her iCloud was hacked.
The news of the leak comes from Helen Wood, a British reality TV star who won the 15th season of "Big Brother" in 2014. She has a column in the UK tabloid newspaper.
In last week's column, Wood claims she received a private message on Twitter with a link to Ratajkowski's private iCloud photos.
Wood wrote,
Last week, I was pondering along through life, when I received a DM on Twitter. No idea who this guy was, but had a peek all the same out of curiosity. Turns out, it was a link to Emily Ratajkowski's iCloud pictures. This clown had inboxed me and asked that I release the full set of naked images in my column.
Wood went on to classify the photos as "private stuff, sent between two people."
Wood claims she refused to publish the pictures, writing,
I understand that lads are lads, they have a meltdown over female genitalia, whatever, I also get why they look at these pics when they leak, but anyone applauding it and helping spread it like wild fire, ask yourselves how you'd feel if that was your mum, kids' mum, sister, girlfriend, or YOU?
Now, at this point in the article I imagine at least 60 percent of you are thinking,
Oh, that's horrible! Poor Emily! But, uh, when are we gonna get to see those nude photos?
Well, unfortunately for you guys, I can't give you that. But what I can give you is these sexy photos of Emily Ratajkowski that she purposely shared with the public. (And trust me, there are plenty of them.)
That's called consent! Isn't fun to enjoy sexy pictures in a way that doesn't make you an asshole?
For example, Emily gave us permission to appreciate her gorgeous bod in white lacey bra and underwear.
She posted this sexy video on Instagram, and therefore gave her consent for you to view it. Yay!
Last month she straight up walked her dog while wearing sexy lingerie.
This was an official photo shoot and posted on her Instagram, so again, consent! Yay!
Here's a great nude photo of Emily Ratajkowski, that she purposefully published for the world to see.
Again, Instagram. Again, consent. Again, yay.
Kim put that one on her Twitter, presumably with Emily's consent.
In case that wasn't enough to satiate you, here are bunch more very consensual, very sexy photos of Emily Ratajkowski.
Consent: ten billion, hackers: 0.
Citations: Emily Ratajkowski hacked iCloud pics sent to Helen Wood to release in column (The Daily Star)