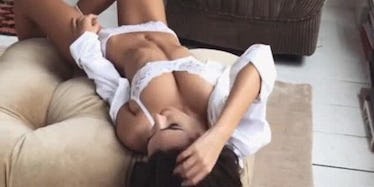 Emily Ratajkowski Is Basically Naked Again In See-Through Lace Bra And Panties
Instagram
It's the dead of winter, but my good friend Emily Ratajkowski doesn't seem to feel the cold one bit.
Nuh-uh!
Instead of cozying up by the fire in a turtleneck sweater, the 25-year-old model is stripping down to a bra and undies because SHE'S BETTER THAN THAT.
Emily posted a sexy Instagram video of her lying on a couch, staring at the ceiling, thinking about cheeseburgers... probably.
In the Boomerang, you can see her resting peacefully on an ottoman wearing nothing but a see-through white bra and matching panties.
Just a casual Thursday morning!
This is what I look like every day of the week. Pizza???? What's that?!
Here's a screenshot of the video just in case you need a closer look at her living room furniture. Is that corduroy? Nice!
This isn't the first time Emily has exposed her naked bod to the world, and it certainly won't be the last.
The girl has shared several pictures on Instagram and Snapchat of her abs, to the point where I can draw you a picture of them without looking.
Somebody grab me a pencil! I'll prove it to you, dammit.
I'm not complaining, so don't roll your eyes at me. There's no other way I'd rather start my day than staring at the naked body of a hot woman while stuffing my face with bagels.
Yes, bagels. Like, more than one.
EMILY, YOU ARE SO HOT AND WE ARE NOT WORTHY. JUST LOOK AT YOUR BUTT, YOUR CUTE LITTLE BUTT.
And look at this... what an artistic shot! I love the way the light hits your cheek, Em. This deserves to be hung in the MoMA for crying out loud.
God bless you, Emily Ratajkowski, even if I'll never be able to pronounce your last name.
Citations: Emily Ratajkowski Sexy Instagram Video (Daily Mail)