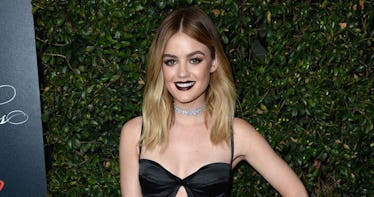 'Pretty Little Liars' Star Lucy Hale Had Nude Photos Leaked In Hack
REX/Shutterstock
"Pretty Little Liars" star Lucy Hale is the latest celebrity to have her nude photos leaked on the internet.
The 27-year-old actress demands the website Celebrity Jihad remove topless photos of her that were posted on Wednesday afternoon.
The images are screenshots of text messages Lucy Hale sent to a friend.
According to Gossip Cop, the star's lawyer is taking action to make sure the site removes the pictures, but as of Thursday morning, they are still online.
According to TMZ, Lucy says someone hacked into her phone to obtain the private pics.
The singer has not yet directly commented on the leak, but she did thank her fans for "having her back" on Twitter.
Unfortunately, Lucy Hale isn't the first woman in Hollywood to have this happen to her.
Just a few weeks ago, "Game Of Thrones" star Maisie Williams had her nude photos leaked online as well.
The pictures ended up spreading to sites like Reddit, but were originally stolen from a private social media account.
Stars like Emma Watson, Avril Lavigne, Gabrielle Union, Jennifer Lawrence and Rihanna have also been victims of this crime.
Fortunately, the man behind that giant celebrity leak, Ryan Collins, has been put behind bars for 18 months. The 36-year-old father of two pleaded guilty to accessing over 100 Google and Apple accounts between November 2012 and September 2014.
Disgusting.
Jennifer Lawrence spoke up about her nude photos in multiple interviews. The star called the leak a "sex crime" and told Glamour magazine why she chose to speak up.
She said,
If I was quiet, it would have seemed like I was ashamed. And I wasn't ashamed; I was enraged. Not once have I felt like I 'learned a lesson.' I didn't do anything wrong!
She added,
Even I've defended myself by saying I was in a relationship with a wonderful man for five years. But even if I wasn't, even if I [just] went on a date with a guy — it doesn't matter what the situation is. It's your body. And you can do whatever you want.
Preach, J Law. I couldn't have said it better myself.
Citations: Lucy Hale Nudes Leaked (TMZ), Lucy Hale Nude Photo Leak (Refinery 29)