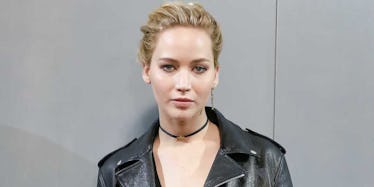 The 36-Year-Old Dad Who Stole Jennifer Lawrence's Nude Pics Is Going To Jail
REX/Shutterstock
Breathe easy, America. Your nudes are safe once again.
Well, they're at least safe from Ryan Collins, who used one of mankind's greatest inventions, the internet, to ruin another of man's greatest inventions, nude selfies, and is serving 18 months in jail as a result.
The Pennsylvania father of two employed a phishing scheme to hack the online accounts of celebrities like Jennifer Lawrence, Gabrielle Union, Kate Upton and Kirsten Dunst and steal their personal nude photos and videos.
Collins' impending incarceration is objectively fantastic news, not only from a justice standpoint, but because "Pennsylvania father of two" is a solid description of the last demographic you want getting their hands on your nudes.
The 36-year-old soft six, who pleaded guilty in May to accessing more than 100 Google and Apple accounts between November 2012 and September 2014 in violation of the Computer Fraud and Abuse Act, recently agreed to a plea deal, Daily Mail reports.
According to the US Attorney's Office, Collins' efforts gained him access to 50 iCloud accounts and 72 Gmail accounts, though prosecutors said there was no evidence he leaked the information himself.
Though the James Madison University alum faced up to five years in federal prison, the judge agreed to 18 months at the recommendation of the prosecutors.
When Collins isn't wantonly violating the privacy of celebrity women, he works as a creative project manager for Listrak, an eCommerce marketing company in Lancaster.
Jennifer Lawrence, who doesn't give a fat shit what Collins does for a living, referred to the scandal as "a sex crime" during a 2014 interview with Vanity Fair.
She told the magazine,
Just because I'm a public figure, just because I'm an actress, does not mean that I asked for this... It does not mean that it comes with the territory. It's my body, and it should be my choice, and the fact that it is not my choice is absolutely disgusting. I can't believe that we even live in that kind of world.
For the next 18 months, the world has one fewer creep to worry about.
Citations: Father-of-two is jailed for 18 months for stealing nude photos and videos of stars including Jennifer Lawrence and Kirsten Dunst in infamous celebrity hacking case Read more: http://www.dailymail.co.uk/news/article-3880754/Ryan-Collins-senteced-18-months-prison-Hollywood-nude-photo-hack.html#ixzz4OO5FO6Q2 Follow us: @MailOnline on Twitter | DailyMail on Facebook (Daily Mail)