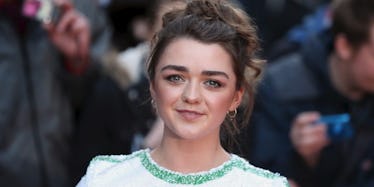 'Game Of Thrones' Star Maisie Williams Had Nude Photos Leaked By Hackers
REUTERS
You know what must be so fun about being a young woman in Hollywood, like Maisie Williams?
Not being able to have any sort of sex life at all, lest you want to have your private life hacked into and shamed on the internet!
Wait, did I say fun? I meant horribly suffocating and invasive.
Yep, 19-year-old "Game of Thrones" star Maisie Williams is the latest victim of leaked nude photos via online hackers.
The photos made the rounds on sites like Reddit over the weekend, and appear to be stolen from a private social media account like Facebook.
If you really feel like stomping all over a teenage girl's privacy, be my guest — but I'm not here to help you do that. You know how to Google.
(I hope you'll hear that tiny little voice known as your conscience telling you what a piece of shit you are while you type into your search bar, though!)
Williams has not yet commented on the leak, but did tweet a quote from the film "Easy A" late Wednesday morning, after the news of the leak broke.
This is a quote from the scene where Emma Stone is trying to subtly tell her parents what word she said in school that got her in trouble.
Given the 2010 comedy has a central theme of shaming teen girls for their sexuality, some suspected it might be an indirect response to the incident.
To be clear, it's not wrong to appreciate how sexy Maisie Williams is and look at sexy photos of her — when she chooses to share those photos with the world.
That's called consent, people.
Like, here's a sexy photo Maisie put on her Instagram last month. Gaze away! The girl's got a great body, and she's inviting you to look at it!
But maybe let's not look at or spread around photos stolen from her private accounts, mmk?
Unfortunately, Williams is hardly the first Hollywood lady who's had her privacy invaded this way.
In 2014, Jennifer Lawrence had her nude photos from her personal email leaked, though luckily the man who stole them from her is now facing jail time.
We only hope similar justice will be served in Williams' case.
Citations: Nude Photos of 'Game of Thrones' Star Maisie Williams Have Been Leaked by a Hacker (Cosmopolitan)