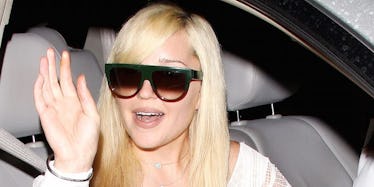 Amanda Bynes Returned To Twitter After 6 Months And People Are Freaking Out
REX/Shutterstock
First, Trump took the presidency.
Then, the Patriots won the Super Bowl.
Next, Lemonade lost the Grammy.
Now, Amanda Bynes is back on Twitter.
Amanda galloped back onto the social media site like the fourth horseman of the apocalypse, ready to defend herself against user @PersianLa27.
The former Nickelodeon star has been on a Twitter hiatus since August 2016, but returned to dismiss rumors she runs an account claiming to be the "authentic" Amanda.
Imposter Amanda put up a fight, but ultimately conceded to the queen of bizarre tweets.
Thank baby Jesus and hallelujah. Amanda's twitter persona is sacred, even if she insisted on deleting her boldest takes long ago.
Remember when she tried to order a hit on her love tunnel, but Drake wasn't available?
Or when, just FYI, she fetishized all black men, just FYI?
Or when she tried to order lunch, because Twitter is the Seamless of Twitter or whatever?
Or when she celebrated Judaism (Baruch Hashem!)?
Don't get your hopes up regarding Amanda's full-time return to Twitter. According to her August updates, the actress is still working her butt off at FIDM in attempt to abandon show business for a career in fashion.
As much as we all love Amanda's online presence, we need to let her follow through on her academic pursuits and become Amanda Bynes: Fashion Person, Or Whatever It's Called.
Imagine the clothes Amanda will make. Imagine the sunglasses (so big!). Imagine the wigs (what a colorful collection!). Imagine the face jewelry (it sparkles in the sun like waves on the ocean!).
A future without Amanda's imprint on the fashion world isn't a future I want to live in and, if you respect yourself and your sartorial potential, it shouldn't be a future you settle for, either.
Citations: Amanda Bynes Breaks Social Media Silence After Nearly 6 Months (ET)