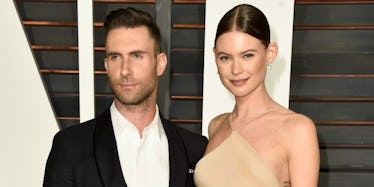 Adam Levine's Beautiful Message On A Picture Of Behati Prinsloo Will Make You Sob
Getty
Adam Levine just outdid your boyfriend's #WomanCrushWednesday post by a million miles. The singer posted the sweetest tribute to his wife on Instagram and fans went nuts. When so many celebs keep their relationships in the dark, it's great to see love alive. Adam Levine's quote about Behati Prinsloo will legit make you sob and want to watch Love Actually. If that's not your go-to romantic movie, please reconsider.
On August 3, Levine posted a hilarious picture of him and Prinsloo looking... windblown. The couple is sitting on a boat, their eyes closed, and Prinsloo's hair is blowing straight up. While these two usually look super sharp and perfect, it turns out this is Levine's definition of perfect. The caption read,
Every once in a while, the stars align... The mood is right, the lighting is flawless, and the expressions on our faces speak a thousand words without uttering a single syllable. I'm not saying it's the perfect photo. But I'll be damned if it ain't as close as anyone has even come. #truth
Damn, this is why Levine is a songwriter. The two are not shy when it comes to expressing their love for each other. Levine and Prinsloo were married in 2014, and have a daughter, Dusty Rose, together.
The photo above is what Levine deemed as perfect, and I couldn't agree more. Even though they are both crazy hot and über famous, they seem like a totally normal couple. Even supermodels get their hair blown around on boats!
This is not the first lovey-dovey post that's been shared. On Levine's birthday, Prinsloo posted a photo with the caption "THE LOVE OF MY LIFE. Happy birthday." So simple and concise, yet super sweet. These two are marriage goals AF.
I think what we've all learned is next time your significant other posts about you, it's probably not good enough. JK, learn from Adam Levine and Behati Prinsloo and love like the world is watching.