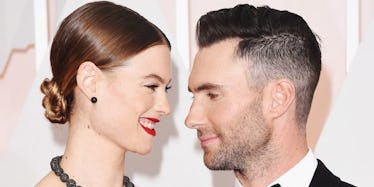 Adam Levine Got A New Tattoo About Behati Prinsloo And It's So Romantic
Getty Images
Adam Levine and Behati Prinsloo aren't shy when it comes to expressing their love for each other.
The Maroon 5 singer and Victoria's Secret model got married in 2014 and had their first child, daughter Dusty Rose, last September.
But how official is a couple -- married or otherwise -- if they don't get ink to declare it to the world?
Well, Adam Levine took care of that recently by getting the words "TRUE LOVE" tattooed across his fingers. According to his tattoo artist's Instagram and, you know, common sense, it's in honor of his wife and daughter.
He posted a photo to Instagram over the weekend showing off the new ink on his hands while grabbing onto a woman's butt.
Based on the caption and photo, I'm going to go out on a limb here and say that's Behati in the photo.
Adam captioned the photo,
it's worth holding onto
Behati posted another photo of her husband's hands on her own Instagram page, writing,
The truest...
The tattoo artist, Bryan Randolph, posted the same photo, captioning it with both Behati's and Dusty's names.
This is definitely not the first tattoo for the 38-year-old coach of "The Voice."
According to reports, he has at least 15 other tattoos, including one honoring his mom, one for his golden retriever who died, one for his band, and a shoutout to his hometown of Los Angeles.
His first tattoo was reportedly a dove when he was 21, which he got in honor of 9/11.
The 28-year-old supermodel isn't a stranger to ink either and she is also adding to her collection. She posted a video to Instagram on Sunday of her getting tattooed by the same artist, but she hasn't revealed the final image.
Adam and Behati reportedly got tattoos together when they were were first married. Apparently, Behati got "you're so cool, you're so cool, you're so cool" in script on her arm in honor of her husband.
We'll have to wait for the reveal to see what this latest tattoo is, but one thing is certain: Dusty Rose has some seriously attractive, and tatted, parents.
Citations: Adam Levine Gets Inked for 'True Love' Behati Prisloo -- See the Pic! (ET)