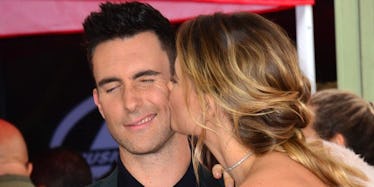 Behati Prinsloo Gushes About Adam Levine In Adorable Birthday Instagram Post
REX/Shutterstock
I'm calling Adam Levine and Behati Prinsloo's marriage as #confirmed.
Their love is definitely not a sham, you guys. I know because Behati Prinsloo posted a super sweet birthday message for Adam Levine on Instagram, and that means their love is lasting and real.
On Saturday, the Maroon 5 singer and "Voice" coach turned 38, and his wife, Victoria's Secret model Behati Prinsloo, posted not one, not two, but THREE birthday photos for him on Instagram.
First, she hit us with this photo of Adam being all rock star-like on stage.
While I appreciate that Behati is making her husband look super cool with this picture, I feel like the love in the caption, which simply reads "birthday boy," can definitely be taken up a notch.
Next up she posted one of Adam looking hot with an adorable, yet ambiguous animal hat atop his head.
Sorry, but, like, is it a bear? A sheep? A hamster? A pig? A kitty cat? Adam, your hat is confusing.
And while the caption on this one, "BIRTHDAY BABE," is slight improvement from the previous caption, I'm still not convinced the relationship is real at this point. I'm going to need more evidence.
For her third photo, Behati brought out the big guns: a photo of the couple together.
Damn. They really are, like, the most attractive couple ever, aren't they?
This time Behati captioned the photo, "THE LOVE OF MY LIFE. Happy birthday," and finished it off with a kissing lips emoji.
THAT'S MORE LIKE IT! Now I can believe this relationship, marriage and family-raising together is the real deal.
And yes, I guess the fact that they've been married for three years, have a child together and a currently raising said child together makes the relationship seem pretty real, too.
But not as much as the Instagram posts. Instas or it didn't happen.