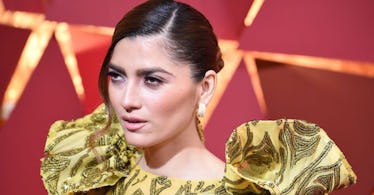 This Actress Pulled A Chrissy Teigen And Flashed Her Vagina At The Oscars
REX/Shutterstock
Ah, the Oscars. A night of glamorous celebrities, breathtaking gowns, endless class, a boat-load of money and, well, at least one bare vagina.
If you're like me, maybe you've thought about what you would wear on a red carpet if given the opportunity, and for me, it has never involved a slit higher than my thigh.
A tiara? Sure. Some underboob? Maybe. But my hoo-ha? Never.
Apparently, this makes me pretty "blah," because ladies, crotches are IN. Bikini lines are IN. No undies and only honies (ew I'm sorry, I'm sorry, I'm sorry) are IN.
Following in the infamous footsteps (or dare I say, pussy power steps?) of Chrissy Teigen's lady zone, actress Blanca Blanco took to the red carpet in a revealing gold dress, at least from the waist down, and accidentally flashed her glam-glam to the world.
Woops.
To be fair, it looks like some of the fabric of the dress may have been misplaced on her shoulder ruffles when it could have given another inch or two around her waist.
Fortunately, Blanco is in good hands as model and social icon Chrissy Teigen suffered a similar wardrobe malfunction at the American Music Awards, showing just a little more than intended in a slinky black gown with a similar high slit.
The trick seems to be finding a way to display your profile and mange to keep the dress DOWN and the fabric at bay.
Blanco, however, can take a page out of Teigen's "How To Survive Showing The World Your Vagina" book, and quickly craft a cheeky tweet.
Teigen, the forever hilarious self-deprecator, wrote,
#AMAs! love you so so so much @jenatkinhair @1maryphillips@monicarosestyle @kimmiekyees (apologies to anyone harmed mentally or physically by my hoo-ha) dress is #YousefAkbar and shoes are @dsquared2and laser hair removal is @sevlaseraesthetics.
Confirming that the one thing we all need to keep in mind if we DO ever end up on a red carpet is we better keep a laser hair removalist on speed dial.
Anyone have any laser hair removalist friends?