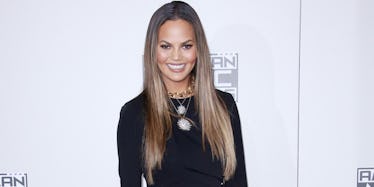 Chrissy Teigen Has A Message For Those 'Harmed Mentally' By Her Vagina
REX/Shutterstock
If there's one thing you took away from the American Music Awards this year, it's the photographic memory of Chrissy Teigen's incredibly revealing dress she wore to the event.
The 30-year-old model does not shy away from showing off her flawless figure even after giving birth to her first child with husband John Legend this year.
However, her "flawless figure" wasn't the only thing she was putting on display at the AMAs. Ask around, everyone knows...
Even Chrissy knows she gave the world A LOT more to look at than it deserves!
Chrissy Teigen graced the red carpet at the AMAs wearing a revealing black dress designed by Yousef Akbar.
Aside from the fact that the dress was already super sexy, the wind made things just a bit more complicated.
I mean, can you imagine all of the things that can go wrong in a windy environment if you're wearing that?
Exactly.
Things were NOT easy for Chrissy.
She had to fight off the wind with John Legend's help to make sure nothing tragic happened while she was posing for photos.
That's precisely why, after struggling to fight off the wind and cover up what she could, Chrissy Teigen decided to take to Instagram following the AMAs to address her minor wardrobe malfunction.
The post reads,
#AMAs! love you so so so much @jenatkinhair @1maryphillips@monicarosestyle @kimmiekyees (apologies to anyone harmed mentally or physically by my hoo-ha) dress is #YousefAkbar and shoes are @dsquared2and laser hair removal is @sevlaseraesthetics.
Just so you know, "hoo-ha" is just another term for "vagina."
Here's Chrissy Teigen's response to all of the people who might have been "harmed mentally" by her vagina at the 2016 AMAs.
There you have it, folks. While Chrissy Teigen may not be sorry for most things, she certainly is saying sorry to those who may have accidentally seen her vagina at the AMAs this year.
You are too kind, Chrissy!
However, she wasn't sorry for wearing the outfit in general.
Touché.
We're all just happy you're finally stepping out of your comfort zone after giving birth to little baby Luna.
After all, it was just two months ago that Chrissy said she wasn't comfortable enough with her post-baby body to even wear a bikini let alone this dress. She said,
Every shoot I have right now, I request like all one-pieces please or anything high-waisted. I'm still definitely not comfortable. I think I'm fine in clothes. But am I comfortable naked or in a bikini? Not exactly yet.
Well, I'm glad to hear that's all changed now (obviously)!
Citations: Chrissy Teigen Apologizes to Anyone "Harmed Mentally or Physically" by Her Vag [NSFW] (Cosmopolitan)