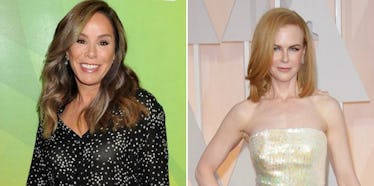 'Fashion Police' Star Melissa Rivers Reveals Trends You'll See At 2017 Oscars
REX/Shutterstock
The Academy Awards are Sunday, February 26, and all us normals are so looking forward to eating our weight in Twizzlers and boxed wine while we watch enchanted porcelain doll Emma Stone deal out awkward hugs on the red carpet.
Though we won't be there in person, due to the aggressively average hand life has dealt us, Melissa Rivers will be in attendance and hopes we'll join her in giving back.
OK, OK, relax. This charitable effort is something you can do while staying fully entrenched in the sadness divot your butt has created in your couch over time.
I know, it's a sweet deal.
Melissa has partnered with Allergan for their #Eyepowerment campaign to donate up to $25,000 to Dress For Success, a global nonprofit organization dedicated to providing women in need with professional attire and development tools necessary to make their economic independence a reality.
It's good for women. It's good for pantsuits. It's good for America. All you have to do is take a selfie of your dang eyeballs.
Melissa told Elite Daily,
Your eyes say so much about you and how you're feeling... A lot of people actually suffer from chronic dry-eye. I personally don't... but I get really red, itchy eyes.
SAME. Ten minutes into wearing contacts, I generally look like I just got a "Minority Report"-level eye transplant. Still, I plan on taking a picture of those dry babies for Allergan's campaign Sunday night.
The "Fashion Police" star added,
During the awards on Sunday night, take a selfie of your eyes watching the awards and, if you hashtag it #Eyepowerment, they will donate $10 — up to $25,000 — to Dress For Success, which is a fantastic charity.
See? You don't even need to put makeup on because the rest of your face will be out of frame sucking white zin through a swirly straw.
Melissa said,
It's very doable… It's so easy… Everybody watches the red carpet for the clothing, so you might as well give a little back while you're sitting there… Put the wine down… take the picture, hashtag #Eyepowerment and pick the wine up again. There you go.
I know Elite Daily readers. This is a crowd who can manage taking an eye selfie with a fist full of alcohol and not spill a drop. This is a crowd of overachievers and the Oscars is where we shine. From home. Alone.
After all, it's the biggest award show of the year.
Melissa confessed,
The Oscars is the most important. It's kind of the grandaddy of them all. I think the Globes are the most fun… First of all, they're serving champagne on the red carpet and you've got TV stars and movie stars and musicians... But the Oscars is still the most important… I always say it's going to your rich grandparents' house for dinner and they haven't quite decided who's in or out of the will yet… You cover up all your tattoos and put on your best behavior.
Fashion-wise, the Oscars brings us the greatest versions of trends that have popped up all awards season. This year, it's all about looking like an angel who fell from heaven, wandered up to the Dolby Theater and somehow just instantly knew exactly what to do with her face when photographed.
Melissa said,
We've seen so much of the plunging neckline. We've seen so much of the embellishment — sort of etherial — and I think it's going to be the culmination of all that. It's been a really beautiful awards season so far. There's been lots of color, very romantic, etherial dressing. It's been very pretty.
All those plunging necklines mean the dress tape business is boomin'. Plus, any stars intent on sitting or eating or riding comfortably in a sedan can kiss those plans goodbye for the night.
Melissa shared,
You've gotta use a lot of tape and stand up super straight. And the hard thing isn't standing up and walking… the hard thing is sitting… I mean, literally there's stories about people — and we've all done it — laying across the back seats of cars so that you don't wrinkle before you get to the carpet.
Frankly, my mother made me do that before senior prom and that was a way lower-stakes event than the Oscars. Also, looking back, my prom dress does not hold up, speaking strictly in terms of style and trends and eternal embarrassment, but that's common of fashion.
Melissa mentioned one particular trend that could use some time on the bench.
She said,
I'm tired of the cutout… We all know they have amazing bodies… It's all such a trend and in three years cutouts will look very fresh again, I'm sure… They've been around for a while. It's time to keep it fresh, keep it moving.
But... but... if not cutouts, then what?
CALM DOWN. There are plenty of walking inspirations to look to for guidance.
Melissa said,
Emma Stone always looks adorable... I think Nicole Kidman has been, by far, one of the best this whole awards season. She's worn — it's not actual fashion for civilians — but she has worn show piece after show piece after show piece and clearly felt good in them and worked them. And Cate Blanchett, too. They are so far ahead of the rest of us… They're these amazing creatures… They're designers' dreams.
True. So true, in fact, the rest of us may one day have to exercise excruciating physical strain to keep our self-esteem from plummeting every time we spot one of these sorceresses.
Melissa continued,
Ruth Negga is someone you can't ever count out… She's the one that walks in and you just go 'Why did I bother even trying? …I give up.' If everyone is in etherial, she's in architectural.
Ruth Negga already looks like a sentient oil painting or one of those women in romance novels who walk into a room and stops time with her face, so it's no surprise adding flawless designer looks to the equation only serves to create the most intimidating overall aesthetic.
Luckily for us plebes, there's no pressure to compete. Come Sunday, we'll sit in our own filth and watch the beautifuls parade around in their billowy gowns and soft, romantic up-dos. Then, on Monday, we'll tune into "Fashion Police" on 8 pm on E! and trade opinions with Melissa and the gang.
Sure, they won't be able to hear us screaming at our TVs, but we're still part of it all, somehow.