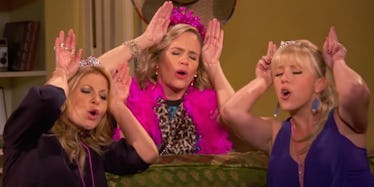 Here's Carly Rae Jepsen's Cover Of 'Everywhere You Look' For 'Fuller House'
In case you've been living under a rock and don't receive Netflix push notifications like most people, "Fuller House" officially made its debut early Friday morning. The reviews are in, and according to most, it's a big, steamy pile of sh*t.
A thorough disappointment could have been expected, but being the optimistic and nostalgia-loving generation we are, hopes were high for the "Full House" remake.
You've been warned of the psychological damage that could ensue from embarking on an hours-long binge of the first season, but it's okay to want to give the Tanner family the benefit of the doubt.
Should you choose to rebuff the bold binge-watcher's review, you'll be welcomed by the classic "Full House" theme song to take you back to the scene of the Painted Ladies on that San Francisco hill. Twenty-nine years later, however, it's not the smooth-rock vocals of Jesse Frederick reminding us of the milkman, paper boy and evening TV.
Carly Rae Jepsen takes on the "Fuller House" cover of the original theme song from the '80s, and it's not at all what the already-tragic remake needed. In fact, it's downright awful. Like, nails on a chalkboard awful. Like, you ordered a number six and they forgot your fries awful.
Have a listen to "Everywhere You Look" below, and be comforted by the reminder that the original still exists.
PSA: Friends don't let friends binge-watch alone.