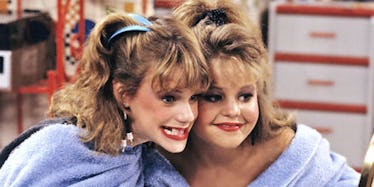 Kimmy Gibbler Gives Us The Scoop On What To Expect From 'Fuller House'
Warner Bros. Television
Guys, "Fuller House" will be on Netflix TOMORROW! ARE YOU FREAKING OUT?
It feels like yesterday I was sitting at my desk and going about my daily routine when, suddenly, the trailer for the new series dropped and my life was changed forever.
Well, the day has finally come. After months of anticipation, you can gather around your TV with friends and family and binge-watch all 13 episodes of "Fuller House" this Friday night.
Based on the preview, it looks like a lot has changed in the Tanner household.
DJ is now a single mom with three sons and living with her sister, Stephanie, and best friend, Kimmy Gibbler, who is also a single mom.
The group of women will come together to raise a family just like Danny, Joey and Jesse came together to raise them.
We got to sit down with Andrea Barber, the actress who plays Kimmy Gibbler, to get the inside scoop on what we can expect from Kimmy this upcoming season.
Here she is! Kimmy Gibbler is all grown up. Welcome to Elite Daily, Andrea!
As you can imagine, we were super excited.
Let's get right to it:
So, Andrea, how has Kimmy's character transformed over the years?
Andrea told us there are several similarities between past and present Kimmy. She's still zany, funny and eccentric, she's just a little more mature now.
She also runs her own party planning business, so that's pretty exciting.
It looks like we'll get to learn a lot more about Kimmy's life as a single mother and business owner in "Fuller House."
Can you describe what it was like to come back home to the "Full House" set?
Andrea explained walking back on set for the first time was a surreal moment for her. It was where she grew up and spent most of her time as a kid.
It was incredible for her to see how well they recreated parts of the house. She also loved seeing pictures of her and the cast members on the walls when they were kids. It really felt like she was coming back to her childhood home.
Honestly, "Fuller House" will take us all back to our childhood home. So many of us grew up watching this show.
In addition to the nostalgia component, Netflix hopes to focus on using shows like "Fuller House" to bring families together. How many shows out there are perfect for people of all ages?
I vividly remember the episode with Kimmy's birthday party when we were introduced to her serious side. Will we be able to see that deeper side of Kimmy in "Fuller House"?
As Andrea mentions, it looks like there's one episode in "Fuller House" where we'll see a serious side to Kimmy. But have no fear, she's still the quirky goofball we all know and love.
How has being a mother affected you as an actress? Are you much more connected to your role?
Both Andrea and her character are single mothers, so she was able to connect to that deeply.
Andrea told us it's tough but she's had a lot of wonderful people supporting her journey through motherhood, just like Kimmy has.
As an extra bonus, Andrea helped us create a five-step guide on how to dress like Kimmy Gibbler.
What kinds of outfits does Kimmy Gibbler wear?
What about her accessories? Is there an item of Kimmy's that's your favorite?
Bacon and egg scarf? Oh, you mean this? Looking good, Gibbler.
Alright, so how can I style my hair to rock Kimmy's look?
And makeup? HELP ME, ANDREA. GIVE ME YOUR WISDOM.
Last but not least, it's all about the confidence.
That sounds easy enough, I'll go grab a scrunchie. Thanks, Andrea! It looks like we can expect a lot of great stuff from grown-up Kimmy.
Be sure to check out "Fuller House" on Netflix on February 26! Also, follow Elite Daily on Snapchat (EliteDailySnap) to see more fun features and interviews!