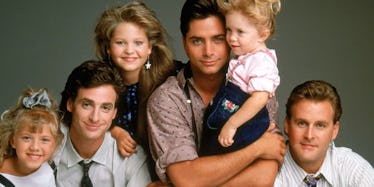 Here's How 'Fuller House' Will Explain Why Michelle Isn't On The Show
Warner Bros. Television
Netflix is set to air the series sequel of every '90s kid's dreams, "Fuller House," in the new year, and almost all of the original cast will be returning to pick up where they left off.
According to the streaming site's original press release, every member of the Tanner family, plus their closest neighborhood friends, has a continuing storyline in the upcoming series.
DJ Tanner (now Tanner-Fuller) will be pregnant and recently widowed in the first of 13 episodes in the season. Stephanie Tanner, an aspiring musician, along with Kimmy Gibbler and teenage daughter Ramona, move in to DJ's San Francisco home to help out with her two young boys: JD, 12, and Max, 7.
The original cast, including Candice Cameron-Bure, Jodie Sweetin, Andrea Barber, John Stamos, Bob Saget, Dave Coulier and Lori Loughlin, will star in the debut season of "Fuller House."
Fans are left wondering, however, why didn't Ashley and Mary-Kate Olsen sign on to portray our favorite Tanner of all, Michelle? And what will come of her character?!
Well, according to Teen Vogue, although Michelle won't be physically present in the "Full House" sequel, we will find out what she's up to after all these years.
Since we can't just go on pretending like sweet Michelle was never part of the ever-dramatic events that unfolded in the Tanner household, sources say there will be mention of her living in New York City and pursuing a career in fashion. Which, if you ask me, does not sound like something Michelle would do!
Rumors also suggest there will even be an episode where the family prank-calls Michelle and teases her with the phrase that made the Olsen twins famous: "You got it, dude!"
Have mercy! With or without Michelle, we cannot wait for this series to air.
Citations: Here's How Full House's Reboot Will Explain the Olsen Twins' Absence (Teen Vogue)