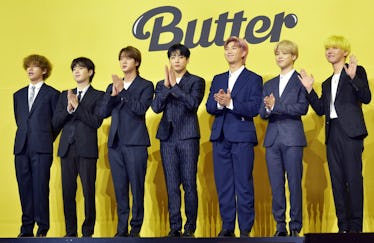 BTS' Snubs In Fan-Voted Categories At The VMAs Had ARMYs Pissed
BTS losing a fan-voted award, how?
The Chosunilbo JNS/ImaZinS/Getty Images
ARMYs have a track record of helping BTS win fan-voted categories at award shows, so when BTS didn't win Song of the Year and Best Pop at the 2021 VMAs, fans were shocked. They couldn't believe that they didn't vote enough to help the septet come out on top. In May 2017, ARMYs reportedly even tweeted 300 million times to ensure BTS won Top Social Artist at the BBMAs. Due to all the history they've made on social media, BTS' Song of the Year snub at the 2021 VMAs didn't make sense to ARMYs.
BTS was up for eight nominations at this year's VMAs: Song of the Year, Best Pop, Best K-pop, Best Choreography, Best Editing, Group of the Year, and Song of the Summer. Before the show even began on Sept. 12, the VMAs announced BTS won Group of the Year and Best K-pop. ARMYs were so happy over the two awards and thought they had Song of the Year and Best Pop in the bag as well, but as it turned out, BTS didn't win either fan-voted category. Instead, Justin Bieber, Daniel Caesar, and Giveon won Best Pop for "Peaches" and Olivia Rodrigo won Song of the Year for her breakout single "Drivers License," respectively.
Although both Bieber and Rodrigo have huge fanbases themselves, ARMYs believed they would still win since they have a long history of winning fan-voted categories. For example, BTS has taken home Top Social Artist at the BBMAs since 2017 — they even beat Bieber for Top Social Artist twice). Besides that, BTS' "Butter" has been the longest-running No. 1 single of 2021, making fans think the group deserved both awards.
"bts lost… on a category… that is fan-voted… hahahahahahahahhahahahahah i mean," one fan tweeted.
One fan pointed out the VMAs website reportedly says the "sponsor reserves the right to select the winners at its discretion and may take into consideration the number of votes received by a nominee up until the time of interruption or cancelation of the voting process." ARMYs questioned the voting process and wondered how BTS could lose. It's important to note that there's no way to really know who got the most votes for sure, but considering ARMYs' track record, it's hard to believe another artist bested them.
Here's how ARMYs reacted to BTS' snubs in the fan-voted categories at the VMAs:
At the end of the day, these losses only motivate ARMYs to help BTS win even bigger next time.