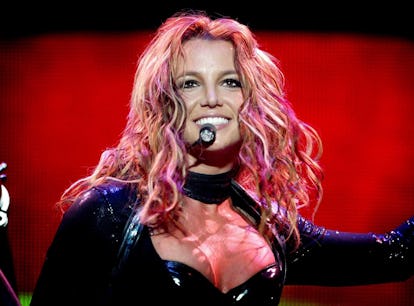 50 Britney Spears Lyrics To Use As Empowering Instagram Captions
She's stronger than yesterday, and so are you.
-/AFP/Getty Images
Britney Spears really is stronger than yesterday. Now that she's been granted the right to choose her own lawyer for her conservatorship case, the "Oops!...I Did It Again" singer isn't holding back anymore. She's taking a stand and fighting for agency over her own situation. It's really empowering to see, especially for fans who have followed her since Day 1. As a member of Britney Army, you may have even seen a change in tone on her recent Instagram posts as she's unapologetically being herself. Channel a bit of that strength in your own posts by using Britney Spears lyrics as your Instagram captions.
Your Instagram feed is where you can post whatever you want. Britney Spears knows that and has taken the opportunity to tell her critics on IG that "if [they] don't like what [they] see," they can always unfollow her. She's even said that while she's still in her conservatorship with her father in charge, she's "not gonna be performing on any stages anytime soon." So, her Instagram is the closest fans will get to seeing her perform, and your Instagram is where you can perform the way you want to as well. In fact, take a cue from Miss Spears and post that video of you doing a TikTok dance in your room or that thirst trap selfie because you know you look good. Just as Britney is taking ownership of her life, you can take a stand on your 'Gram showing your most authentic self.
Since Britney is the inspiration behind your new empowerment, it only makes sense that you would pair some of the best Britney Spears lyrics with your snaps. Of course, there are so many iconic songs to choose from, but here are just a few Britney Spears captions to start off with depending on what mood you're in.