Not A Girl, Not Yet A Woman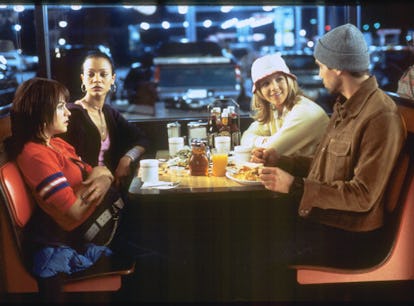 Britney Spears' Crossroads Is Returning To The Big Screen
Lets time travel back to 2002.
Columbia Pictures/Courtesy Everett Collection
This year's spooky season is for the ghouls and pop girls. In early October, Taylor Swift's Eras Tour concert movie will make its big screen debut. And now, Britney Spears will close out the month with Crossroads. Yes, the 2002 film that gave one of her most iconic ballads, "I'm Not A Girl, Not Yet A Woman," the spotlight it deserved. To celebrate Spears' upcoming memoir, the cult classic movie will be re-released in theaters on Oct. 23 and Oct. 25. Someone alert Miley Cyrus, stat.
According to a press release, Crossroads will hit over 875 theaters across 24 countries. The film's two showings are tied to Spears' long-awaited book The Woman in Me, which releases on Oct. 24. Crossroads was Spears' first (and last) starring role in a movie. Directed by Tamra Davis and written by Shonda Rhimes, the movie — which also stars Zoe Saldana and Taryn Manning — follows three childhood friends and their chaotic road trip from Georgia to Los Angeles.
Despite many critics not loving the movie at the time, Crossroads became a blockbuster hit. It eventually developed a loyal following over the last fifteen years, and recently, Davis gave Spears her flowers for her role. "I recently rewatched Crossroads and was so enthralled with the time capsule of nostalgia that this incredible ensemble cast brings to the screen," Davis said in a new statement about Crossroads' re-release.
Davis continued, adding Spears' performance is "absolutely breathtaking to watch." "We had the best time in the world making this picture and the connection the actresses bring to their performances shows in every frame. I'm so grateful that Crossroads will be available so people can see Britney shine again," the director ended her statement.
While the idea of seeing (or for some, re-witnessing) this movie on the big screen is iconic, there's more to the surprise. This version of Crossroads will include a new soundtrack, featuring remixes of "Overprotected," "I Love Rock 'N Roll," and "I'm Not a Girl, Not Yet a Woman" from her 2001 self-titled album.
The end of the film will also have a bonus sing-along of two songs from Spears. While the track's name hasn't been revealed, I'm crossing my fingers it's her singing another track from Britney — hi, "That's Where You Take Me." Lastly, the re-release will include merch and recreations of wardrobe pieces worn by the cast in the film.
This movie might not sit in a high tier of Rhimes' cinematic universe, but it's still a gem nonetheless. Clear your fall schedules and learn about Crossroads' re-release below.
Crossroads' New Takeover Is Around The Corner
The 2002 film will be re-released in theaters on Oct. 23 and Oct. 25.
How To Buy Crossroads Tickets
According to the press release, fans can purchase tickets for the Crossroads re-release on the Crossroads Fan Events website on Sept. 28.