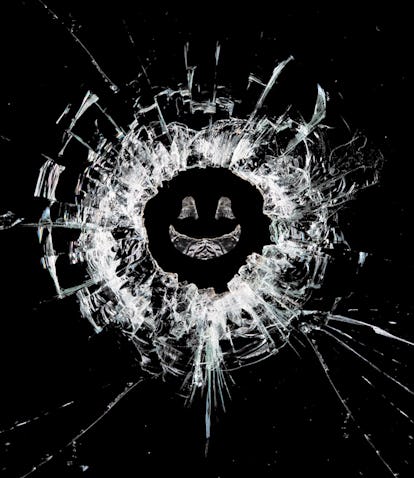 The Black Mirror Season 6 Episode Titles Tease A Sequel To A Fan-Fave Episode
Things are about to get weird...
Netflix
A lot has happened since Black Mirror had last dropped a new episode. After a novel virus caused the whole world to go into lockdown and completely change the way we live, it can sometimes feel like Netflix's dystopian sci-fi series stopped being a piece of fiction and became reality. But now, the series is finally coming back to show us things can be much worse... maybe? If you're ready for another round of technological horror stories, here's what you can expect from Black Mirror Season 6, including when it will premiere and who will star in the new episodes.
Black Mirror fans have had to be wait a long time for a Season 6 announcement, but it finally came on Monday, May 16, 2022 via Variety. The confirmation arrived nearly three years after Season 5 dropped on Netflix in the summer of 2019, marking the anthology series' biggest break between seasons. That hiatus was partially due to shifting production companies, and also creator Charlie Booker expressing doubts in pumping out such bleak content amid real global disasters. But now the dark drama is coming back for another round, and it's never had more real-world inspiration to draw from. Here's how Season 6 will be different from the last five.
Black Mirror Season 6 Release Date
Netflix has yet to reveal an exact release date, but has confirmed that Season 6 will drop sometime in June 2023.
Black Mirror Season 6 Cast
Black Mirror is known for booking some of the biggest celebs to star in its dystopian stories, and Season 6 will be no different. On July 13, Variety revealed the stars of Season 6's five episodes: Zazie Beetz, Paapa Essiedu, Josh Hartnett, Aaron Paul, Kate Mara, Danny Ramirez, Clara Rugaard, Auden Thornton, and Anjana Vasan. The rest of the cast was revealed along with the episode titles later on.
Black Mirror Season 6 Episodes
The new season will consist of five episodes. Their names and descriptions were unveiled in a short video on May 12:
"Joan Is Awful" — An average woman is surprised to find out that her life has been adapted into a hit drama series. This episode stars Salma Hayek, Annie Murphy, Michael Cera, Rob Delaney, Ben Barnes, and Himesh Patel.
"Loch Henry" — A couple working on a quiet nature documentary finds themselves sucked into a much juicier story at the Scottish town they're visiting. This episode stars Samuel Blenkin, Myha'la Herrold, Daniel Portman, John Hannah, and Monica Dolan.
"Beyond the Sea" — Two men on a mission in space deal with the consequences of a terrible tragedy. This episode stars Aaron Paul, Josh Hartnett, Kate Mara, Auden Thornton, and Rory Culkin. Because of Paul's involvement and the outer-space setting, fans are theorizing this episode will be a sequel to Season 4's "USS Callister."
"Mazey Day" — A high-profile celebrity is hounded by the paparazzi in the aftermath of a hit-and-run. This episode stars Zazie Beetz, Clara Rugaard, and Danny Ramirez.
"Demon 79" — A quiet salesperson is forced to commit terrible acts at the threat of even worse conquences. This episode stars Anjana Vasan, Paapa Essiedu, Katherine Rose Morley, and David Shields.
Black Mirror Season 6 Trailer
The full trailer arrived just weeks before the June release date. It reveals quick glimpses at the five episodes, but of course, is careful not to give anything away. Notably, the trailer kickstarted the theory that Aaron Paul's episode would be a "USS Callister" sequel, given his cameo at the end of that story and the new footage of him dressed in a spacesuit.
This article was originally published on