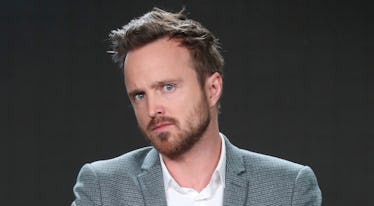 Aaron Paul Had A Hilarious Cameo In 'Black Mirror' & You May Have Missed It
Frederick M. Brown/Getty Images
The twisted, technological horror of Black Mirror is finally back so that you can end 2017 with the crushing bleakness that this year deserves, but the string of pretty depressing new episodes does include one really funny bright spot... if you are good at recognizing voices, that is. Although he never physically appears in the show, Aaron Paul has a cameo in Black Mirror Season 4 — did you catch it?
Spoiler alert: This post will contain some spoilers about the Season 4 premiere episode of Black Mirror, "USS Callister." Yep; that's Aaron Paul's voice that you heard at the very end of Black Mirror's bold Star Trek parody episode "USS Callister." Paul briefly appears in the intergalactic episode only as a disembodied voice, but delivers one of the most fun moments of the whole new season. Paul's cameo also turns "USS Callister" into a mini Breaking Bad reunion, since both he and the episode's lead, Jesse Plemons, starred in the acclaimed drug-dealing drama — Aaron Paul played meth-cooking protégé Jesse Pinkman and Plemons joined the show in the final season as another cook named Todd.
After the crew of the USS Callister escape the clutches of Jesse Plemons' sadistic game developer, Cristin Milioti's character navigates the virtual ship into the public gaming software, populated by thousands of other gamers. Unfortunately, the first new person that they meet is your typical gaming douchebag, played with delicious teen angst by Aaron Paul. Paul's character immediately demands to know what the USS Callister has to trade with him, and then prepares to blow them up when they won't offer him anything. Luckily, Milioti's character easily escapes Aaron Paul's lasers, and the episode ends with her ship blasting off into an ever-expanding new universe full of possibilities... and I guess also full of other douchey gamers.
Aaron Paul's voice cameo also felt perfectly cast — it is easy to imagine that it could actually be his Breaking Bad character Jesse Pinkman that is playing the video game during some downtime, or even his BoJack Horseman character Todd trying out a new video game. Though he gained fame for his on-screen role on Breaking Bad, Aaron Paul has been doing a lot more voice acting recently — he is a series regular on the animated series BoJack Horseman, he recently guested on cartoons The Simpsons and Tron: Uprising, and he starred in the CGI film Kingsglaive: Final Fantasy XV last year. He is also appearing in person as the star of Hulu's cult-focused drama series The Path.
Of all the new Season 4 episodes, it is surprisingly this Star Trek parody episode of Black Mirror that feels most timely, and positions itself as the clear standout of the season. With all the focus on abusive men in the workplace in 2017, "USS Callister" separates itself from the rest of Season 4 as the most relevant statement on current events. Though it appeared to just be a fun Star Trek send-up initially, the episode actually has an incredibly dark underbully, as Jesse Plemons' character uses his technological prowess to trap digital clones of his coworkers inside his private video game to torture as he pleases. Though the episode was filmed before the Harvey Weinstein exposé opened the floodgates to revealing Hollywood's abusers, it is difficult to watch "USS Callister" without these exposed, powerful men coming to mind.
"USS Callister" is also the most star-studded episode of the new season, with the most actors that TV fans will likely recognize of the bunch. Aside from Aaron Paul's cameo, the season premiere also stars Plemons, How I Met Your Mother star Cristin Milioti, Westworld and House of Cards star Jimmi Simpson, and Chewing Gum star Michaela Coel.
All six episodes of Black Mirror Season 4 are now streaming on Netflix.