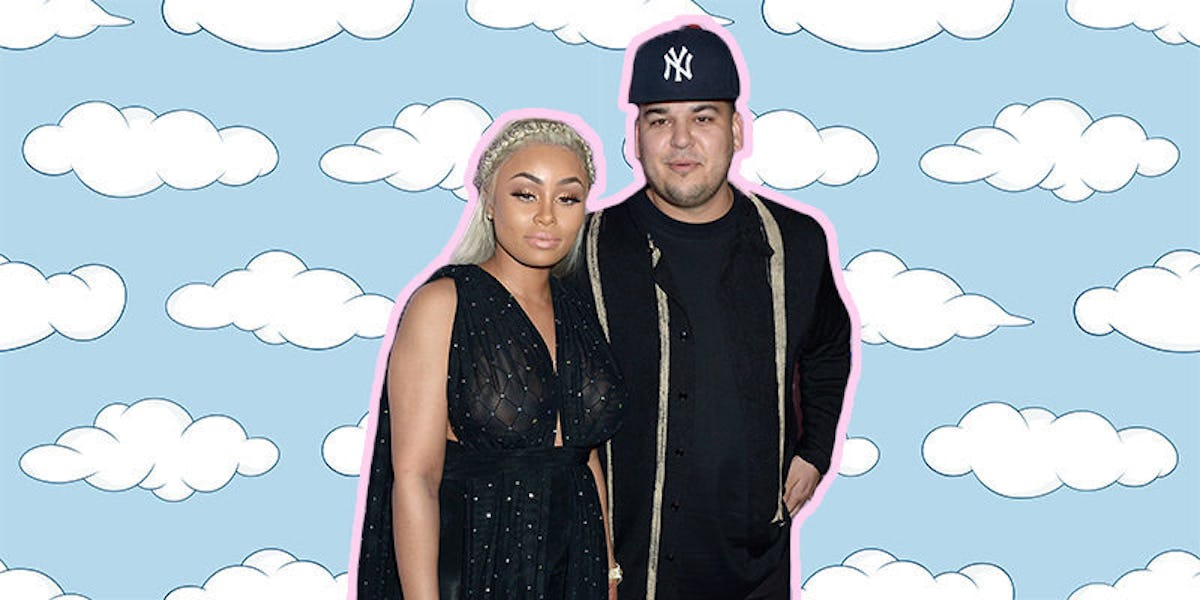 Here's What Blac Chyna And Rob Kardashian Should Name Their Baby Girl
REX/Shutterstock
The gender of Rob Kardashian and Blac Chyna's precious fetus was revealed this week and, for those of you who don't devour every last crumb of Kardashian news like a rabid wolf who loOoOoOves drama, the couple is expecting a baby girl.
With the gender reveal out of the way, everyone can start spitballing baby names! AHHH!!!
We've come up with a starter set and, truthfully, baby K would be lucky to go by any of the following.
Karma Kardashian
Initially, Twitter tossed around the idea of Chyna and Rob naming their baby "Karma" as a nod to Chy's expertly-crafted infiltration and seizure of the Kardashian empire.
Blac chyna baby name gone be "Karma Kardashian" — Queen T (@0Bossx) May 11, 2016
They said Blac Chyna baby name will be KARMA KARDASHIAN. . — Suttin Popula (@HakeemBandsome_) May 15, 2016
Is Blac chyna baby name really gonna be Karma — Alexandria M (@alexaM1203) May 24, 2016
"Karma," currently the predicted frontrunner, would adopt the Kardashian "K" name tradition and flip the status quo by providing an opportunity for a black woman to steal something from the Kardashians for once.
Blob Kardashian
This portmanteau of Chyna and Rob's names was first introduced to us by Elite Daily's Eitan Levine back in April. It's simple, original and, for the first year at least, would perfectly describe the appearance of the baby herself.
Amber Kardashian
Amber Rose has stuck by Chyna's side through everything. Both women have been victimized by members of the Kardashian family and their bond represents true, solid sisterhood.
When Chyna gave birth to her first child, son King Cairo with rapper/Kylie-lover Tyga, she chose Rose as his godmother.
What better way to honor her bestie and partner in modern, sex-positive feminism than to make her the namesake of her only daughter? THERE IS NO BETTER WAY.
Queen Cleopatra Kardashian
Those of you on the endless search for perfect symmetry in this mad world might want to start a hashtag campaign to convince Rob and Chyna to name their baby girl Queen Cleopatra.
Sure, King Cairo and the new baby will be half-siblings, but they'll be raised together. Giving King's sister a name for plain ol' normals does a disservice to both of them.
Which sounds better?
Blac Chyna was spotted at the park with her two children, King Cairo and Queen Cleopatra.
OR
Blac Chyna was spotted at the park with her two children, King Cairo and Bev.
Roberta Kardashian
Rob is the only Kardashian sibling whose name doesn't follow the "K" pattern. Instead, it honors his father, Robert Kardashian Sr., who was alive to pass on his name but died when Rob was 16.
The father-to-be loves a decent homage, evidenced by the massive portrait of Robert Sr. he had tattooed on his arm years ago.
Slap an A on the end of "Robert" and BAM, legacy secured.
Adrienne Imissyousomuchpleasecallme Kardashian
This would be a tough one to sneak by Chyna, who will easily be the smartest Kardashian once she legally takes Rob's name, but her man will forever have a place in his heart for ex Adrienne Bailon.
She was his first love and it seemed, for a moment, as though they had a real future.
In a parallel universe somewhere, Rob has a bunch of Cheetah Babies with the one that got away.
Kim Kardashian
Blac Chyna's plot to take over the Kardashian empire will hit hardest if she simply gives her daughter the very name on which the primary Kardashian built her conglomerate.
Kim can't stay powerful forever. As her youth abandons her and the shallow American public moves on, new baby Kim Kardashian will rise to power, usurping every last bit of brand recognition from the original.
If the Blac Chyna/Kim Kardashian saga were a game of Mortal Combat, this would be the moment we hear "FINISH HIM" and the final blow is ruthlessly delivered.