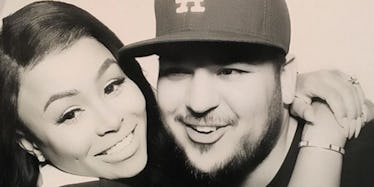 Rob Kardashian Just Accused Blac Chyna Of Violently Scratching Him
Blac Chyna and Rob Kardashian's relationship is starting to look a little rocky.
On Monday, the 29-year-old Kardashian brother unfollowed his fiancée and future baby mama on Instagram and deleted all his pictures of her.
Apparently, the two had a heated argument about Blac Chyna paying too much attention to their upcoming reality series and not enough attention to Rob.
Supposedly they made up, Rob re-followed Blac Chyna and things are all good now.
But this doesn't sound like just any small couple's argument.
According to a video Rob posted on his Snapchat, Blac Chyna scratched his arm hard enough to leave a mark during their fight.
In the video, Rob films the red marks on his arm with Blac Chyna sitting in the background.
He says,
Look what she did to me. Crazy psycho bitch.
Then Blac Chyna laughs (laughs!) and pushes the camera away.
Haha, just normal couple stuff, right?
It's only physical violence and calling your girlfriend a psycho bitch! Totally healthy! Should definitely raise a child together for the sake of a reality show!
OK, maybe this relationship is starting to look VERY rocky.
Citations: 'Psycho b****': Rob Kardashian 'slams pregnant Blac Chyna for making his arms bleed after aggressively scratching him with her nails amid split claims' (Daily Mail)