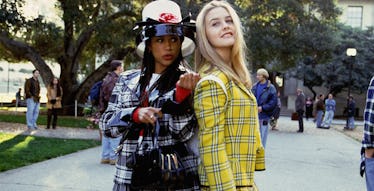 5 Classic TV Besties That Will Make You Want To Call Your BFF
Paramount Pictures
Most of us have our all-time favorite best friend duos we live vicariously through on TV.
We wish, wish and wish some more we could make them part of our own girl squad, or be included in theirs.
They may be fictional characters, but they're so damn real to us. Some of them are super relatable, and perfectly mirror the amazing relationship many of us share with the PB to our J.
Find out which BFF duo is the spirit animal to you and your bestie…
Upper East Side *Queen Bee* Blair Waldorf, and her gorgeous other half, Serena van der Woodsen, rule the halls of Constance Billard and the steps of the Met (in fabulous fashion, of course).
If you and your bestie have dealt with (and conquered) loads of drama throughout your relationship (from boys, to friends and family), you're just like B and S.
In the end, they're always there for one another, no matter how good, bad or ugly the drama got.
You and your bestie are better off (and much more productive) in love and life when you're sticking together, than you are apart. The competition between the two of you is what keeps things alive and exciting.
Like B and S, the two of you have been friends since day one. You'll remain city queens together, even when your hair is gray and you're sipping afternoon tea (and still chugging mimosas) in the penthouse.
Blair's straightforward personality, flawless hair and ultra-preppy wardrobe perfectly complement Serena's carefree, genuine vibes, angelic aura and trendy closet.
XOXO, Gossip Girl.
Ah, even though their wardrobes are worlds apart, Brooke Davis and Peyton Sawyer have such passionate, good-natured hearts.
Brooke and Peyton created a bond like no other when Peyton's adoptive mom passed away.
Although, having the same taste in guys *cough, cough, Lucas Scott* made them rivals for a while, they knew they were meant to be Tree Hill besties in the long run.
Clothes over bros, am I right?
If you and your best friend go in total opposite directions as far as hobbies and fashion sense are concerned, but are connected by the soul since childhood, you're Breyton.
There's no competition between the two of you, especially in your career; you have different passions.
Brooke is all about cheerleading, fashionable heels, silk tops and mini skirts, while Peyton lives for rock-and-roll music and distressed jeans.
3. Tia and Tamara from "Sister, Sister"
If your sibling is your best friend in the entire world, then you're totally Tia and Tamara from "Sister, Sister."
Separated at birth, then reconvening once again in their teen years, Tia and Tamara could not be more different behind their identical twin exteriors… but that's exactly what makes their relationship so incredible.
And let's be honest: There's nothing quite like sharing a great bond with your identical twin, right? If Tia and Tamara hated one another, things could have made a turn for the worst… but, they got along just fine.
If your sibling or twin is the PB to your J, and you feel as though you wouldn't be able to navigate live without him or her by your side, #SisterSquad Tia and Tamara know the DL.
You can complete one another's sentences, and even probably switched places with them so you could get cozy with your guy crush during summer school.
4. Rory and Lorelai from "Gilmore Girls"
Let's be real here: Who's better than the Gilmore Girls duo?
It's clear this mother-daughter pair is the epitome of #FriendshipGoals.
If you and your mom are attached at the hip, tell one another everything, have an obsessive addiction to coffee (doughnuts, too) and consider PopTarts to be an integral food group, you're Rory and Lorelai Gilmore.
Although the vibrant, carefree Lorelai tends to be more of a best friend than a parent at times, her bond with Rory is unparalleled and oh-so special. They love one another beyond compare, and live in the most adorable, charming town in Connecticut: Stars Hollow.
5. Cher and Dionne from "Clueless"
If you're constantly on the same page with your best friend -- aka she's literally your heart and soul in a different body -- then you're definitely Cher and Dionne.
From boys, school and having no problem telling a betch when she's wearing "imposter" perfume, you and your bestie have life wrapped around your fingertips… just like our gals, Cher and Dionne.
This notorious duo gave all of us hardcore #PlaidGoals envy, while slaying the best friend game at the same damn time.
You and your BFF? You're complete and utter extroverts and never fail to make a statement when you're together.