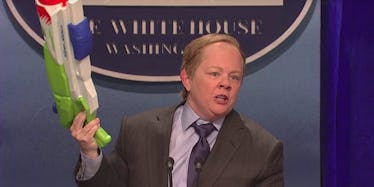 Sean Spicer May Be Out, But These Videos Prove 'SNL's "Spicey" Will Never Die
NBC
It's official: Sean Spicer is out of the White House, but Saturday Night Live's "Spicey" will live on forever.
The first thing most people thought of after the announcement that Spicer was resigning from his office of Press Secretary was the best Sean Spicer SNL moments, aka Melissa McCarthy's greatest moments of 2017. The rest of the jokes were just really great memes.
Honestly, are they wrong?
Melissa McCarthy is nominated for an Emmy for her role as Sean Spicer (well, for the episode she hosted, but she did a Spicey sketch in it, so it counts) — that's when you objectively know your impression is good.
Given the fact that Melissa McCarthy and Yanic Truesdale had an accidental Gilmore Girls reunion in Greece earlier this week, I'm not even sure if McCarthy is aware of her muse's news.
But here's hoping she does a livestream in her Spicey costume while chilling on a beach in Mykonos or something. I'd pay $1 million to see that. Hahahahahaha JK, I'm broke. I will pay a total $5. Your move, McCarthy.
Here are the best Sean Spicer SNL moments in honor of Spicer's exit from the Trump administration.
1. The first time we ever met good 'ol Spicey.
I have to admit, it took me a little while to figure out this was actually Melissa McCarthy.
But when I did, oh my god. My tears could have filled the Nile.
Best quote:
I know that myself and the press have gotten off to a rocky start. When I say 'rocky start,' I mean in the sense of Rocky the movie because I came out here to punch you in the face, and also I don't talk so good.
2. The second time we met good 'ol Spicey.
The greatest part of this video is when Spicey announces he's only having one stick of gum a day from now on, and then he holds up a giant package of gum. We also meet Kate McKinnon's Jeff Sessions in this video, so it's truly a gift.
Best quote:
First of all, I'd just like to announce that I'm calm now.
3. That time Spicey was found hiding in the bushes.
This was the video where Spicey was found hiding in the bushes in a truly iconic moment.
Best quote:
OK, let me just put this whole Russia thing to bed once and for all: Trump is innocent. How do we know? Because he told us so. Period. OK? Then he hired lawyers to agree with him. And they're gonna prove it with a certified letter, which you know is the truth because it costs an extra $2 to have it certified.
4. When Spicey doubled as the Easter Bunny.
This one had me WEAK. WEAK, I tell you.
Best quote:
Happy Easter, everybody! Oh, and by the way, the president's probably going to bomb North Korea tonight. OK! Spicey's gotta hippity hop and deliver these eggs. And everybody, just eat as much candy as you want 'cause this is probably our last Easter on Earth.
Then he runs over his podium in the egg car.
5. The time Spicey was caught riding his podium through the streets of Manhattan.
~Making my way downtown, walking fast, faces pass, and I'm homebound.~
6. Anytime Spicey talked to Glenn.
In some truly hilarious irony, Glenn Thrush, the New York Times reporter Bobby Moynihan impersonated during the Spicey sketches, was the reporter to break the news of Spicer's resignation.
Life comes full circle, people.
LONG LIVE SPICEY!
Melissa McCarthy's Spicey, that is.