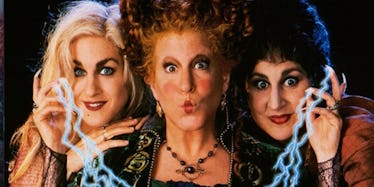 6 Halloween Movies To Keep On Repeat 'Til October 31
Walt Disney Pictures
Boo! What's Halloween without some of the best movies that sparked our imagination, made us fall in love with the spooky season and left us simultaneously screaming and wanting more?
It's quite magical and exhilarating that something so petrifying can be entertaining, and can also bring our culture together to celebrate an American holiday through film annually.
It's time to sink into our seats and watch some of our favorite childhood films.
Whether you're an '80s baby who grew up in the '90s, or a Millennial, this genre of Halloween horror films will not only give you goosebumps, it will also set the stage to watching some of the best film productions of our time.
Here are six classic Halloween movies everyone remembers:
1. "Hocus Pocus"
You may have already seen the "Hocus Pocus" memes that have gone viral all over social media. These three witches made this movie an all-time classic and favorite for movie-goers of all ages.
Actually, no. It's not an all-time favorite; it's legendary. No matter what decade we're in the Sanderson sisters will never fail to creep us out and entertain us on when having out Halloween movie marathon.
2. "Casper"
We all remember the friendly ghost, right? Who doesn't love a good movie complete with haunted mansions, friends, moving into a new town and ghostly creatures? This was also a cult classic that every movie lover should have on their Halloween list.
This movie uses an innocent and naïve tone to touch upon what it means for one soul to fall in love with another. It makes you question where true love resides -- on the inner depths of our soul, perhaps -- no matter what we look like in flesh.
This movie was a sensational hit because people obsessing over how cute "Casper" was.
3. "The Nightmare Before Christmas"
The talented genius, Tim Burton, created the dark fantasy of Halloween town. Mummies, vampires, ghouls, Jack-O-Lanterns and basically any creature of the dark fantasy, you name it and this movie's got it.
I don't know about you, but I'll always be scared when watching this movie and as the movie progresses those feelings will be flushed out by new feelings of embarrassment for being scared over a cartoon.
The soundtrack of this movie was also epic and released by Walt Disney, containing songs from such artists like Marilyn Manson, Fall Out Boy, Panic! At the Disco, All American Rejects and Blink-182.
If that's not enough to give you nostalgia I don't know what is.
4. "Scream"
Scream entailed a series of American horror films, known for reawakening and reviving the horror genre of the 90s, that changed the way movie goers watched horror films. It was both terrifying and hilarious.
The mask became a hit costume for every "trick or treater" and you didn't really grow up as a Millennial if your brother/cousin/annoyingly cute boy in class didn't scare you at least once with it.
This movie set the tone for horror movies; the mask literally scared everyone.
In May 2016, MTV took over "Scream" and flipped it into a TV series. Now, you can go and watch your childhood horror unfold again but 2016 style.
5. "The Craft"
This one's for the girl squads. Women are more powerful when they're united together. This speaks volumes to girls uniting together and joining forces for some sort of mischief (or witchcraft in this case).
The movie touches on themes of friendship, the pressures of fitting in as a teenager and moving to a new town, narcissism and the consequences of evil forces. You're literally being taught life lessons while hiding under your blanket hoping the ending never happens to you.
6. "Beetlejuice"
Another Tim Burton classic, what can I say? He runs the creepy game.
Remember not to say "Beetlejuice" three times in a row when you're alone, he might come after you.