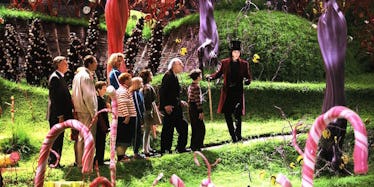 7 Ways Tim Burton Movies Have Become Our Unlikely Style Inspiration
Warner Bros
Earlier this month, Winona Ryder confirmed a sequel to "Beetlejuice" was definitely on the way.
So, what better opportunity to look at the way in which Tim Burton movies have become our unlikely style inspirations?
His signature style plays on the dark, bizarre, imaginative and gothic. There is no limit when it comes to Burton's ideas, and people aren't just influenced by him on Halloween.
Where do we draw most of our inspiration?
1. "Beetlejuice"
Straight from his first directorial effort in 1988, Burton managed to inspire and amaze audiences with the introduction of pinstripe to a whole new audience, particularly in suit form.
The design has become a staple look associated with Michael Keaton's legendary character, and it has even been sported by Kendall Jenner.
2. "Batman Returns"
When anyone thinks of 1992's "Batman Returns," most people remember Michelle Pfeiffer's Catwoman suit and mask combo. The costume designer, Mary Vogt, said:
"We knew we wanted it to be black and sexy and tight and shiny. Latex is as black and sexy and tight as you can get."
Selina Kyle proved you could wear provocative BDSM-inspired clothing, but still be stylish and fearless.
3. "Alice in Wonderland"
The 2010 remake of the classic fairytale seemed a bit suspicious on paper, but what came together on screen was a beautiful and outlandishly styled film.
It even won the Oscar for Best Costume Design, thanks to Colleen Atwood.
Atwood stated her intention to go against the clichéd Alice outfits already seen before.
This resulted in an over-the-top Red Queen, a brand new, orange-haired Mad Hatter and a corset-wearing Alice who, over time, gained "a detail — black trim, contrasting colors, a stripe," reminiscent of Burtons' style.
4. "Sweeney Todd"
The two-tone hair of Todd showed that, once again, conformity wasn't entirely Burtons' interest. The costumes in the film also showed how Burton could pull off the swag of a London barber in the 1800s, all while looking sleek and modern.
The softened cross between centuries is what made the film's style. All of a sudden, there were numerous demon barbers and Mrs. Lovetts hanging around the streets.
5. "Corpse Bride"
In this 2005 animation, Burton showed us that blue hair could be attractive and stylish, even if we're talking about corpses.
While it's not necessarily a style that can be pulled off when going to the supermarket, Burton proved he could make other-worldly characters look fashion-forward.
The bride, Emily, also showed that a bit of wear and tear on a wedding dress was alright.
6. "Edward Scissorhands"
Okay, forgetting the fact that Edward had scissors as hands, this strange character showed us that odd was redeeming and totally relatable.
The floppy hair is still around today, and maybe we have to credit Edward and Colleen Atwood for that.
7. "Charlie and the Chocolate Factory"
This is probably Burton's loudest film in terms of style and costumes, and it showed a new, lively side to the previously gothic Burton. Garish outfits, neat hair and ridiculous sets proved we all have children inside of us.
The new Willy Wonka was slick, suave, yet still Burton-esque.