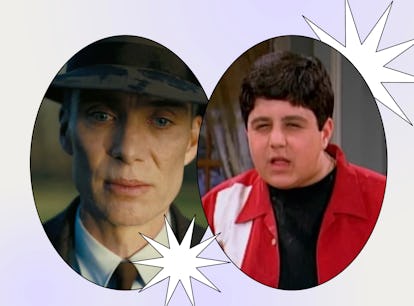 Oppenheimer Has Set Off An Explosion Of Drake & Josh Memes
"It's spherical!" takes on a whole new meaning.
Universal Pictures/Nickelodeon
Thanks to its now infamous release date, Oppenheimer was always going to be memed to hell. But while the internet was exploding with the expected Barbenheimer memes, it was another aspect of the dark biopic that blew up in a much more surprising way. Moviegoers didn't realize Josh Peck would be such a pivotal park of the film, and now, social media is full of the funniest Drake & Josh memes spoofing Peck's most dramatic role ever.
Spoiler alert: This post contains light spoilers for Oppenheimer. Maybe it's because the Oppenheimer cast list is so massive and star-studded that Peck's name got a bit lost before viewers sat down to watch the movie. But that's what made his climactic moment toward the end of the film even more surprising. He played physicist Kenneth Bainbridge in the biopic, who's the person to actually initiate the atom bomb test by pushing the launch button.
It's a serious part, but because of Peck's Nickelodeon past, fans couldn't help but giggle a little and make some jokes comparing Bainbridge to Peck's most well-known character. Viewers even pointed out that at one point in Oppenheimer, it looks like Peck is making his Drake & Josh character's famous "Megan" face.
On paper, it may not seem like Oppenheimer has a lot in common with Drake & Josh, but surprisingly, these clever memes prove otherwise.
And Peck isn't the only Oppenheimer actor getting the throwback meme treatment. The movie actually contains a ton of beloved child actors taking an unexpectedly serious turn, including The Naked Brothers Band's Alex Wolff, The Santa Clause's David Krumholtz, Diary of a Wimpy Kid's Devon Bostick, and Sky High's Michael Angarano. The sheer number of this specific type of actor in the movie was a nostalgic treat for all the Y2K kids watching.
Basically, Oppenheimer is a literal blast from the past for everyone who grew up in the early 2000s. Turns out, there's a lot more fun to be had with this grimly serious movie than just mashing it up with all those Barbie memes.