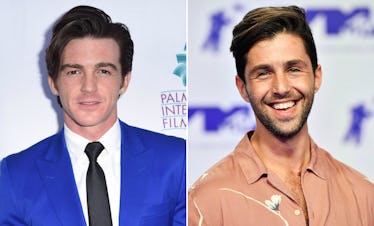 The History Of Drake & Josh's Relationship Is So Complicated, They're Like Real Brothers
Vivien Killilea/Getty Images Entertainment/Getty Images & Frazer Harrison/Getty Images Entertainment/Getty Images
Celebrity relationships and friendships are a rare breed. These famous faces have their lives played out in front of the masses, whether it's the good, the bad, or the straight-up shady. In Elite Daily's new series, It's Complicated, we're highlighting the biggest celebrity "feuds" that took over Hollywood and dominated our Sunday brunches for weeks on end. We'll take a deep dive into the lives and social media feeds of our favorite stars and dissect what happened in front of the camera, what went down behind the scenes, and everything you might have missed in between.
I would start this off by saying something like "all's fair in love and childhood TV shows," but I don't know if that's exactly true. Drake Bell and Josh Peck of Drake & Josh fame have had one of the most high-profile bromances in Hollywood. Their recent falling out, although brief, left their fans reeling since it tarnished the perfect-friendship facade fans had grown to love. The real nature of their two-decades-long relationship is, perhaps, more interesting than a cookie-cutter friendship. There's feuding, forgiveness, triumph, failure, and, most notably, real love. The history of Drake and Josh's relationship is so complicated, it's almost as if they're real brothers. In fact, some might argue what these two have been through has brought them closer than most blood family members.
Even regular folks can imagine how difficult it is growing up in the limelight. Everyone can also remember what it was like to be a teenager. Drake and Josh had to juggle all of the usual insecurities and struggles of growing up, plus deal with the added pressures of fame. It's more than understandable that these two butted heads over the years. Today, Drake, 32, and Josh, 31, are toying with a reunion, though nothing is in the books.
For now, let's take a walk back through their complicated relationship.
The Amanda Show (2000 - 2002)
Ah, the early days. Drake and Josh first forged their comedic chemistry on Amanda Bynes' iconic Nickelodeon comedy show The Amanda Show. Their buddy cop dynamic and physical comedy set them apart and sparked the beginnings of their long, winding careers together.
Drake & Josh (2004 - 2007)
Spit takes, slapstick, and a little bit of Drake Bell singing made for some high-quality YA television. The two actors appeared as brothers on the now-classic show, which ran on Nickelodeon from January 2004 to September 2007. It could also be revered as the boys' golden years.
In August 2018, Drake told Seventeen that even back then, brotherly tensions began to rise. "There were some days I wouldn't want to talk to Josh unless it was dialogue. Like, unless it says I have to talk to you in the script, I don't want to talk to you," he said. "Then there would be moments when we would finish a 13-hour day where we were non-stop together and we'd be walking to our cars and we'd be like, 'Hey, what are you doing right now?' 'Just going back to my house. Play some video games.' 'Okay, cool. See you in a minute.'"
Yup. That sibling dynamic checks out.
The Movies (2006 & 2008)
What's a good kids show without some awesome spinoffs? Drake & Josh Go Hollywood came out during the series run in 2006, and Merry Christmas, Drake & Josh was released one year after their TV show ended.
Drake also told Seventeen about this time, "There's moments where we're absolutely inseparable and we think every single thing that comes out of each other's mouths is absolute genius and Josh is the most brilliant person I've ever met. Then there are times I just wanna throw him through a wall. It's just like my little brother."
The Professional Split (2008 - 2015)
After Drake & Josh ended, the boys went their own professional ways, much to the chagrin of their fans. In just cruising through their IMDb pages, you can see both actors had a variety of parts in various television shows, movies, and video games.
Peck appeared in shows like The Mindy Project and The Big Bang Theory before landing the show Grandfathered in 2015. He also did voiceover work for the Ice Age movies as the character Eddie. Drake landed the role of Spider-Man in the Avengers Assemble animated TV series and in Hulk and the Agents of S.M.A.S.H.
Then, in 2014, the two seemed at least cordial when they reunited at the Kids Choice Awards and Josh attended the release party for Drake's music album, Telegraph.
Fans were pumped to see their relationship seemed to be smooth sailing!
The Grandfathered Reunion (February 2016)
By 2016, their brotherly bond seemed to be gaining momentum again. Drake popped up in a cameo on Josh's show Grandfathered, where he co-starred alongside John Stamos. The brief reunion sparked hope in viewers and made everyone wonder if a Josh & Drake reboot might be coming, especially since the reunion episode was chock-full of references from the iconic show.
The Wedding Drama (June 2017)
...BUT. That optimism was radically squashed when Josh did not invite Drake to his wedding. No one was more surprised than Drake. Josh and his wife Paige O'Brien reportedly held an extremely small wedding. It was so small in fact, Drake didn't make the guest list. In a moment of hurt, Drake took to Twitter to express his feelings and make it publicly known he and Josh were on the outs.
Later, he told Digital Spy he didn't realize how much of a big stir it would cause.
"I thought it was going to be some funny 'well, guess you won't get invited to the wedding, blah, blah, blah,'" Drake said. "But I did feel bad for Josh because people really did attack him. And I'm like, 'Bro, this is a brotherly thing.'" He added, "We talked about it and I was like, 'Dude, I'm just a little bummed,' and he was like, 'Honestly, first of all I didn't think you'd wanna come, secondly, it was such a nightmare putting it all together, and scheduling and invitations, and then I just let my wife handle it all.'"
Later, Drake told Seventeen,
It's something you would have said to your brother if you weren't in the public eye and have a bunch of fans... Of course, it all just comes down to, 'Do you know what it's like to plan a wedding? I've got my wife saying this! It costs this. I'm tasting whether I want chicken, or beef, or lamb! Like, I don't know! I just want to get married. So don't take it personally, but there was just a certain number of people…'
The Make-Up (August 2017)
Two months after Drake's tweet, Josh bombarded his "brother" at the 2017 Video Music Awards. Drake's reaction? "Holy sh*t! What's up buddy." Josh jokingly pleaded with Drake to ask Facebook to be nice to him, and Drake obliged. "Lay off," he said.
The Tentative Drake & Josh Reboot?
Today, Drake is more than down for a Drake & Josh reboot. He just needs Josh to give it the green light. Drake told Seventeen, "One hundred percent, I would do it tomorrow. I would do it tonight. I would do it right now." He continued,
There's so much story to be told for our characters... All these crazy things I think fans would love. I've had so many funny ideas. I know that I'm 100 percent down to do it, I know that Dan Schneider is 100 percent down to do it. We just gotta convince JP.
JP, do it for the fans. (And when I say fans, I think what I really mean is do it for Drake.)
The Dad Reveal (August 2018)
A year after the boys made up at the VMAs, Josh asked Drake to join him on his vlog where he revealed he and his wife are having a baby. It's truly my favorite one minute and twenty seconds of these two I've ever seen. Together, they joke about Drake being called "Uncle Drake" and the potential for their future kids to grow up together and have their own show one day. Josh put it best when he explained the emotional thought of it got him "right in the childhood."
Sure, I'd rather not wait until their hypothetical sons are 15 years old to get a little more Drake & Josh action on TV, but if I must, I must.
Love you, brothas.