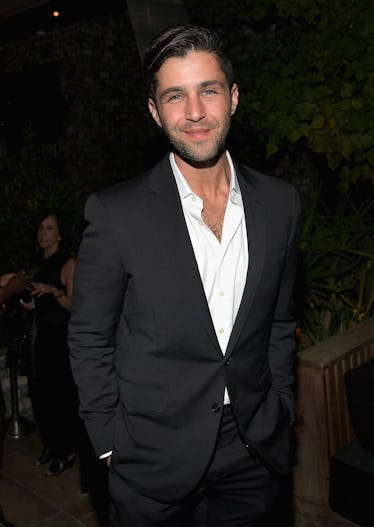 Josh Peck From 'Drake & Josh' Is Having A Baby, Which Doesn't Make Me Feel Old At All
Charley Gallay/Getty Images Entertainment/Getty Images
Are you ready to feel older than ever before? If not, then brace yourself: Josh Peck from Drake & Josh is having a baby. That's right. The 31-year-old actor and comedian is expecting his first child with his wife, Paige O'Brien. The happy couple announced the exciting news on their Instagram accounts on Thursday, Aug. 23.
Peck posted a photo of himself and his wife on Instagram with the caption, "Oh baby. Literally, there's a baby in there. Love u @paigeobrienn."
The photo shows Peck and his wife standing close to each other against a white backdrop. Peck has his arm around O'Brien while she holds her baby bump. You can find Peck's photo here.
O'Brien posted the same photo to her Instagram along with another of just a side view of her growing belly. "We're havin' a baby!" O'Brien captioned the post. Take a look at O'Brien's photo here.
This will be the first child for both Peck and O'Brien who have been together for quite some time. Peck and O'Brien have been married for just over a year. They tied the knot back in June 2017 after getting engaged in March 2016. In early June 2017, Peck posted a photo of himself in a tux and asked fans what he thought of it. He was clearly preparing for his big day.
Here's a look at the photo:
"What do you guys think of this look?" Peck wrote in his post. "Getting ready for a big night coming up, plus I'll be able to wear this when I eventually become a waiter."
Peck and O'Brien actually share quite a lot of their life together via Instagram. Back in July 2018, Peck posted gorgeous photos from their wedding day
And in May, he shared this date night photo of himself and O'Brien:
In February, he also gave fans a glimpse at him and his wife on vacation:
In December 2017, he also shared a sweet photo of the two of them at a carnival:
He captioned the photo with, "This picture makes me think of two things I love a lot, carnival food and my wife @paigeobrienn Happy Birthday bub 😘😘 #tbt"
So, it kind of goes without saying that Peck and O'Brien have a really sweet relationship. And it's probably even sweeter now that there's a little one on the way!
Interestingly enough, both Peck and O'Brien seem to have a knack for taking care of babies. Both their Instagram accounts are filled with pics of them spending time with kids.
Here's one of Peck and an unnamed baby:
And here's one of O'Brien with a baby named Benji:
And then you've got this one of Peck posing with another little kid:
And yet another sweet photo:
And another one:
So, it seems like Peck and O'Brien are already pretty good at taking care of little babies. You kind of get the impression that they've been wanting to have a child for a while, especially since they seem to spend so much time around kids. If that's the case, then they're bound to be great parents!