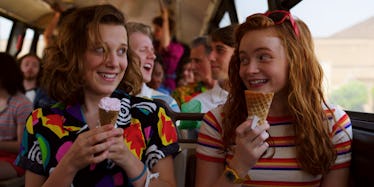 These 25 Movies About Childhood Friendships Have Total Stranger Things Vibes
They don't all have monsters, but they have a lot of heart.
Netflix
In between fighting monsters and discovering Russian codes, the kids of Stranger Things never fail to remind viewers of what it was like to be teenagers and have unlimited opportunities to spend time with friends. While Stranger Things' core friend group grows a bit further apart as they get older, the show's depiction of young friendship has always captured the highs and lows of these childhood bonds. If you still can't get over the relatable moments showcased within the Stranger Things' characters' relationships, ease your growing pains by watching movies about childhood friendships while you wait for the next season.
Stories of childhood friendships, both in the tween and teenage years, have been a staple of movies and films since the Little Rascals movies of the 1930s. In the 1980s, stories of kids banding together as a part of growing up, especially fantasy or science fiction ones, were all over the place, from The Goonies to The Lost Boys. Stranger Things is the next generation of this ever-popular genre, and its 1980s-era setting is an homage to the heyday of those types of films.
So, where should a Stranger Things fan start if they're looking for other coming-of-age stories about tight-knit friend groups going on adventures, both great and small? Here's a rundown of some of the best bets.
This article was originally published on