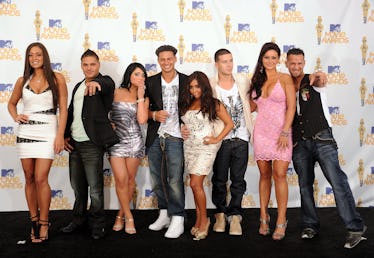 15 Jersey Shore Sayings That Will Forever Stand The Test Of Time
Jason Merritt/TERM/Getty Images Entertainment/Getty Images
MTV's reality hit Jersey Shore had its original series finale in 2012, after infiltrating the pop culture landscape in 2008 (remember all those Snooki Halloween costumes?) and spawning a new breed of inescapable slang that America just can't stop repeating all these years later. Jersey Shore quotes are a part of this world forever, whether you like it or not. And thanks to the iconic reality show's 2018 reboot, Jersey Shore Family Vacation (which wrapped up its fourth season on Sept. 2, 2021), the days of "T-shirt time" and "meatball power" are back in full swing.
The Jersey Shore spinoff reassembles most of the cast who went on to become household names as a result of the show's success. Yup — Snooki, JWoww, Deena, The Situation, Pauly D, Vinny, and Ronnie bring their talents for more on-camera shenanigans. The first four seasons took place in various locations, from the OG shores of Miami to Los Angeles to a COVID bubble in Las Vegas. The fist-pumping glory is set to return for a fifth season, along with the return of Snooki after her absence during Season 4.
Fans can almost smell the Ron Ron juice already. Is it possible to develop a secondhand hangover just by watching this show? If you need to brush up on the intricate language of Jersey Shore sayings, now is as good a time as any. Here are the most memorable quotes the cast blessed us with — may you continue to use them in your everyday life accordingly.
This article was originally published on