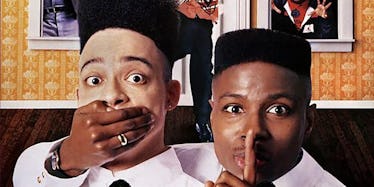 These 10 Best Black Movies Of The '90s Will Help You Escape The Madness Of 2017
New Line Cinema
Ahhh, the '90s: How I wish I could go back.
I'm actually lying. The truth is, my age didn't even reach double digits in the '90s, and there's nothing I miss about having a bedtime and learning my times tables.
However, what I DO wish to bring back from the '90s is the afrocentric rap and style, as well as the carefree spirit that seemed to linger.
As a result, so many black movies represented the culture of the '90s we all hold near and dear. I wasn't blessed enough to appreciate all the '90s had to offer us at the time, which makes it even more important to cherish the timeless art left behind by the era most of us were born into.
We've spent our much of our lives reminiscing about '90s moments we barely even remember. But thankfully, we have our '90s movies to help us time travel back to an era we were too young to wallow in.
Here's a list of the top 10 black movies of the '90s in order to bring you back in time:
There are three specific reasons why "Poetic Justice" makes the top 10 list: Tupac, Janet Jackson and Janet Jackson's braids.
While "Poetic Justice" pulls the typical "horrible first impression, but then we fall in love" plot I usually hate, I can't help but get glued to the TV whenever this movie blesses my screen.
It's probably because of Tupac. No, it's DEFINITELY because of Tupac.
Every time I watch the movie, I'm tempted to go sit for six dreaded hours in a salon chair, just to rock box braids like our girl Janet.
It's already happened to me twice last year. Thanks, Janet.
This is proof I'm not being totally biased here: I wanted to place "Love Jones" at number one just for myself.
Don't like love stories or poetry? Well, neither do I. But all that changes when you watch "Love Jones."
To deny this movie's smooth delivery would be a sin. It's all too relatable in terms of trying to keep it casual until you catch a mean case of feelings you didn't ask for.
The chill vibes, smooth jazz and sensual poetry just seduces your soul. This movie is the epitome of the black love we all want... or is it just me?
I'm low-key still waiting for my Darius Lovehall.
The one word I'd use to describe "Boyz n the Hood" is "necessary."
Although this movie leaves us with our spirits down after our boy Ricky fails to dodge that bullet, we all knew not to expect this film to be roses and lollipops to begin with.
Besides, Ice Cube's jheri curl is definitely funny to look back on.
The scene where Tre (Cuba Gooding Jr.) fights the air out of pure frustration is all of us when we've reached our boiling point. Lastly, our girl Nia Long once again blessed us with her presence, so you know that's a plus.
There aren't many movies that star four black women as leading ladies, and the ones that do usually revolve around a man's love or lack thereof.
"Set It Off" is not one of those movies.
Watching four black women form a bond over their misfortunes and embrace their independent, no-bullshit and clever attitude is everything we need.
We honestly would've been perfectly fine with a happy ending, but of course, it had to tug at our heartstrings when the only one left standing was Jada Pinkett.
Tupac is straight-up insane in this movie, and that's exactly why it's so incredible.
This movie is the prime example of why you should never let your friend who always seemed a little off call the shots. Crazy people can't handle having the juice because their egos get in the way of any rational thinking.
Tupac did an amazing job at making this very clear to us.
Nino Brown is the realest drug kingpin of all time... no debates.
Wesley Snipes murdered this role and will always be remembered for it. We also see Chris Rock in rare form as a desperate crack head, which is entertaining, to say the least.
"House Party" is the perfect depiction of how parties used to be before technology and the internet took over our lives. It's too bad most of us didn't experience parties quite like this.
But at least we get to live vicariously through Kid 'n Play every time we watch this movie.
The best moment – hands down – is the scene where Kid, Play, Tisha Campbell and A.J Johnson start battling to get the party jumping.
"Friday" is a classic, and everyone knows it. There are far too many funny moments to name, but a few favorites are when John Witherspoon berates Ice Cube for eating all the food and when Smokey gets punched by Deebo.
Or maybe the funniest part is the simple fact that Ice Cube's character got fired on a day when he wasn't even working.
But honestly: How do you get fired on your day off?
This movie is one of Eddie Murphy's best (aside from "Coming to America".)
"Boomerang" is an incredible example of a player getting played himself. Only somehow, he wins in the end... but not until he's humbled first.
Murphy's character Marcus Graham is the charming cat who gets any woman he wants, but he just tosses her aside when she doesn't measure up to his standards (one of which is flawless feet).
He meets his match in Robin Givens' character. She plays his new boss and love interest, although she treats him more like a toy than a lover.
Halle Berry gets an honorable mention because she makes the movie complete, and it's so rare to see her play the "girl next door who gets overlooked" role.
Weird.
"Malcolm X" has to be number one for the culture, especially for Black History Month's sake.
It's also one of Spike Lee's most vital films, and arguably Denzel Washington's greatest role. Many of us watched this movie before we read the autobiography, so it was our first look at Malcolm X's legacy.
This film successfully illustrated Malcolm X's life and evolution into the militant activist we remember today.