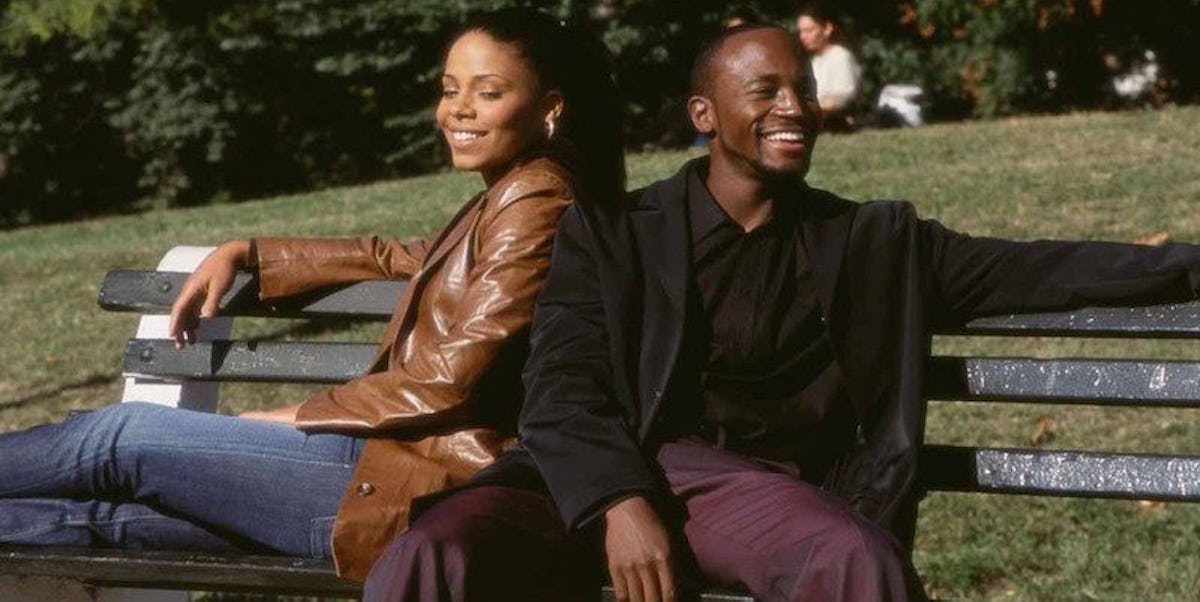 8 Important Dating Lessons You Can Learn From Classic Black Movies
Fox Searchlight Pictures
I was raised on black romance movies. Films like "Purple Rain" and "Deliver Us From Eva" played on loop in my household so much, several VHS tapes were popped in the process.
Growing up in a single-parent household didn't afford me many examples of how to date with the confidence of Jacqueline Broyer from "Boomerang." Instead, these silver screen or straight-to-DVD stories showed me how to navigate the obstacles of love.
My favorite black films taught me about falling in love, soothing a broken heart and learning how to forgive.
Eventually, I paired these cinematic do's and don'ts with real-life experience. Still, I recall Shante Smith's game-playing antics from "Two Can Play The Game" when I'm in the mood for pettiness.
Nowadays, I watch these films with nostalgia and think of all the love lessons I still carry with me.
"The Wood" proved I should never forget my first love.
This hilarious coming-of-age story focuses on four guys growing up in Inglewood, California. The story jumps to several different affairs as the friends reminisce on past love and sexual conquests.
However, a good chunk of the film focuses on the grade school love story of Alicia and Mike. Their puppy love eventually fizzles out post-graduation, but it's clear sparks still fly when Mike sees Alicia at a wedding.
If I ever bump into my first love again, I'm sure I won't stare at him lovingly like Mike. But, according to this film, he'll always be a (distant) memory.
"Brown Sugar" reinforced that the love of my life should be my best friend.
Music journalist Sydney Shaw grew up loving her best friend Dre Ellis as much as she loved hip-hop. Except, everyone knew it but her.
As it turns out, they both realize they're meant to be and don't let their current relationship statuses (taken!) extinguish the spark.
Sydney and Dre lean on each other during heartbreaks and professional drawbacks, and it's clear how much friendship plays a role in lasting love.
While I won't give away the comedic path they take to win each other back, let's just say I hope I never accidentally friend zone my soul mate.
"Love & Basketball" taught me to go after the guy I wanted.
Monica Wright literally played a game of basketball for Quincy McCall's heart. Seriously, the scene still tugs on my feels. Since childhood, Quincy was her first in every way, but he was still too stubborn to admit she was the one.
After the breakups, makeups and attempts to move on, Monica decided to fight for real love, instead of settling for something less. Because of Monica's fearless battle for her relationship, I never shy away from making the first move.
It's a testament to true love when you're willing to fight for it. Then again, it can backfire. Still, no matter the outcome, taking a risk for love is worth a shot.
"Love Jones" showed me you can't have casual sex with someone you like.
When Nina Mosley and Darius Lovehall have sex for the first time, they convince themselves their connection is purely physical.
Granted, I've tried my hands at a few f*ck buddy rendezvous. However, I've found the longer they last, the higher the chance someone wants more than just an orgasm.
Who am I kidding? Just as Nina and Darius can't fight their deep attraction, I've failed at no strings attached coupling every time.
"Jungle Fever" displayed how interracial relationships can be tough.
For reasons besides race, Flipper and Angie were doomed from the get-go. Nonetheless, they attempt to transform their sex fling into a relationship anyway. The disapproval of their respective families made them question whether the relationship was the right choice.
Interracial dating isn't as taboo as it was when this early '90s classic was shot. However, when I chose to date outside my race, I quickly learned that in order to brave the world together, you've got to be rock solid.
"Boomerang" reminded me never to date a co-worker.
Marcus meets his match when he's forced to work with girl boss Jacqueline. Finally, the ad executive-cum-womanizer find himself capable of loving someone, but as fate would have it, she doesn't love him back.
Soon enough, the one-sided relationship affects his work ethic and challenges everything he believed about love.
I only watched this flick one time before concluding to never sh*t where I eat.
"The Best Man" reiterated that love is about forgiveness.
With friendships, forgiveness was a concept I learned fairly quickly. It took me many years of dating, however, to extend that same kindness in relationships.
Watching NFL star Lance Sullivan forgive his soon-to-be wife Mia Morgan for sleeping with his friend in college was proof that love and forgiveness are synonymous.
Though it's hard to forgive someone for hurting you, it's possible.
"Waiting To Exhale" showed me love is not like a fairytale.
Bernadine, Savannah, Robin and Gloria are not the best when it comes to relationships. Their dealings with men are far from perfect and they get burned more often than not.
But, watching these four friends band together in times of great loss and joy proves that no matter if you're single or head-over-heels in love, your girls are always right beside you.