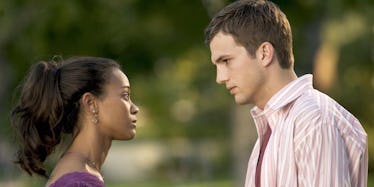 5 Things Black Women Inevitably Have To Explain To Their White Boyfriends
Columbia Pictures
Don't let the title fool you: Pairing happens in all ways... and certainly colors. Even this insanely divisive period we're going through in the United States can't reverse the interracial relationship advances that are surely here to stay.
Black women and white men aren't the only diverse duo out there, but it's something to chat about if you've ever been in that type of relationship.
Aside from the historical separation of black people and white people, there are a few barriers you should get out of the way in the present... just so you're on the same page (and not one from an American history book).
So, if you're a black woman and you have been with, or are currently with a white man, I'm sure these topics have somehow made their way out of your mouth:
1. Your Hair
If you didn't see this coming, then I'm not sure what to tell you.
Black hair is an incredibly versatile and amazing topic, but if you weren't brought up around it, it can be confusing. Imagine one day seeing your black queen with a cute pixie style. But then the next week, she's rocking Marley twists.
It can be a bit alarming, just because of how different the hair quality is. It lands both parties in completely different events.
There's a chance your man has never stepped foot in a hair shop, and you've probably never even been in the same parking lot as a Supercuts: That's life.
Now, let's throw in a small chat about touching hair: Just don't do it.
2. Your Family
Black families aren't just about being blood related. This is probably the case with other families too... but I happen to only have a black one.
You have an uncle you've called "uncle" for years, but he really isn't your uncle at all. Not to mention, there are some family secrets better left buried than getting your hands dirty trying to dig them out.
It isn't that your family should have to be explained to your man, but a heads up about the fact you don't necessarily abide by the rules of the nuclear family couldn't hurt.
Who likes normal, anyway? Black families are always willing to hand you the hilariously unordinary.
3. Your Body
Since you're with your man, it's safe to assume you've already cross-checked for any annoying interceptions like being considered a fetish or "a score." Sadly, black women have to be aware of those types of things when they date outside their race because stereotypes still manage to live and function in society.
A black woman's body should still be considered a temple, not some exotic display that has happened in the disgusting past.
4. Shopping Habits
Another thing that should probably be brought up is clothes and how they fit. Black women don't always have the luxury of shopping just anywhere: Our bodies aren't fully represented in the retail field.
Black women, you already know jean or pant shopping only comes second to being damned to hell's inferno.
5. The Shade
Like I mentioned earlier, we may not be living in outdated times anymore, but we haven't completely jumped ship from people's stalemate mindsets with regard to interracial dating.
At times, you've probably had to tell your man why a group of black men looked at him like he was their third-grade bully all grown up.
The stares won't stop and the judgments will be hard at times, but you have to remember there was a time when the two of you together was unfathomable. But don't let that serve as an excuse: People should get over it.
But even if they don't, you have your own life to live.
Again, there are a million types of relationships out there, and there's no harm in laughing at the little things that need to be explained. Everyone's human experience is different.