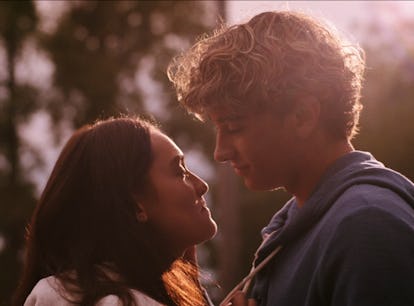 Belly & Jeremiah Don't Need Taylor Swift — They Have Beyoncé
The Summer I Turned Pretty's soundtrack is spicier than ever.
Prime Video
Music is a big deal in The Summer I Turned Pretty. Like, a really big deal. Superfans will hyper-analyze why each song on the soundtrack was chosen for each specific moment, deepening the central ship wars between those who think Belly should end up with Conrad and those who prefer her relationship with Jeremiah. For a while, Team Conrad could boast that Belly and Conrad were the ultimate Swiftie couple due to Taylor Swift's music always playing during pivotal scenes between them. But in Season 2's finale, Belly and Jeremiah got their own pop superstar to soundtrack their romance: Beyoncé.
Spoiler alert: This post includes details from The Summer I Turned Pretty Season 2 finale. The second season of TSITP totally shook up fans' expectations when it came to the music. In the first season, the show's multiple Taylor Swift songs were exclusively used for scenes between Belly and Conrad. But that tradition was broken in Season 2, when Swift's single "Delicate" played during a romantic moment between Belly and Jeremiah in the pool. Despite that, it still felt like Swift's music was a special thing for Conrad and Belly's relationship — so the Season 2 finale gave Jeremiah and Belly their own special artist.
After a tense night trapped in a motel with both brothers, Belly finally made a choice. She ran out to the parking lot to find Jeremiah, and as she started to kiss him, Beyoncé's 2013 single "XO" played. The TSITP soundtrack is pretty well-known for always being stacked with massively popular singers, but this marked the first time the show ever used a Beyoncé song. Fans who ship Belly and Jere were quick to claim the musical moment as a huge win, declaring Beyoncé the official musician for the relationship.
Of course, readers of Jenny Han's source novels know that although Belly and Jeremiah ended Season 2 in a good place, the drama is only just beginning for them. Hopefully they'll at least have some more Beyoncé bangers to help get them through it in Season 3.
The full second season of The Summer I Turned Pretty is available to stream now on Prime Video.