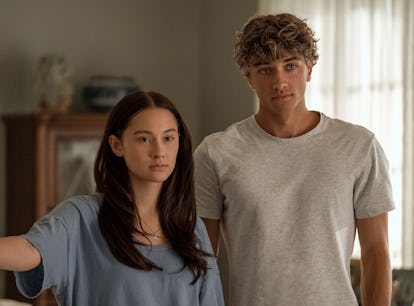 TSITP Fans Are Not Happy With How The Show Used "Delicate (Taylor's Version)"
This ain't for the best...
Prime Video
You would think The Summer I Turned Pretty fans would be overjoyed to hear a new Taylor Swift song suddenly pop up in the middle of an episode, but surprisingly, Swift's latest release in the show got some backlash from devoted fans. In Season 2, Episode 6, viewers got a first listen of "Delicate (Taylor's Version)," which is a pretty huge deal since it could be a hint that Swift is planning to re-release her album Reputation soon. While the new version of the hit single was cause for celebration, the actual scene the song was used in left a large part of the TSITP fandom feeling jilted. Here's why Swift's "Delicate" release in The Summer I Turned Pretty Season 2 caused so much controversy.
Spoiler alert: This post discusses events from The Summer I Turned Pretty Season 2, Episode 6. As every TSITP fan knows all too well, the show's soundtrack is filled with Swift songs. Swift's connection to Belly's love story is so strong that the singer has even debuted new versions of her music in special scenes. During the first season, Swift's previously unheard re-recording of "This Love" scored a romantic moment between Belly and Conrad. But for Season 2's new release, Jeremiah finally got his Swiftie scene with Belly.
The new version of Swift's Reputation single "Delicate" played as Belly and Jeremiah got flirty and almost kissed while swimming in the pool.
It should have been a sweet moment, but it wasn't for a lot of TSITP fans, and the reason for that is a sort of unspoken tradition that the series seemed to set up for itself. Throughout Season 1 and the first half of Season 2, all of the Swift songs on the soundtrack were used exclusively to score romantic scenes between Belly and Conrad. "Delicate" marked the first time the show ever used one of Swift's songs for a Belly and Jeremiah moment, which was a pretty huge deal in the perpetual shipping battles between fans.
Fans who ship Belly and Conrad felt that Swift's songs were a sacred element of their relationship, so seeing Jeremiah and Belly connect over "Delicate" felt like a betrayal to the diehard Bonrad stans.
So now the Bonrad Swiftie tradition is officially broken on TSITP, it's anyone's guess which song will play next, and for which couple.
New episodes of The Summer I Turned Pretty Season 2 drop Fridays on Prime Video.