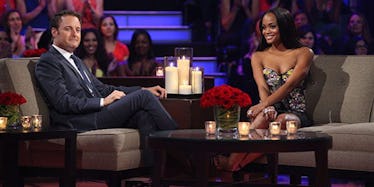 'Bachelorette' Rachel Never Wants To See DeMario Again, But He's Not The Only One
ABC
This season of The Bachelorette introduced America to a bunch of super charming new guys, but there were a few in there most fans are probably glad to be done with. And that's true for Rachel Lindsay as well. She reunited with all the guys who competed for her heart during Monday's Men Tell All special, even though it included a couple men she wouldn't mind never seeing again. Rachel reacted to DeMario and Lee in an interview with Entertainment Tonight following the special, revealing they're two of the contestants she's truly done with.
Unsurprisingly, when Rachel was asked which Bachelorette contestants she never wants to see again now that the season is over, she was quick to name DeMario, Lee, and Lucas (whom we all better know as the Whaboom guy). Both DeMario and Lee have been at the center of controversy after the season filmed — DeMario was involved in a murky interaction with Corinne Olympios resulting in the suspension of Bachelor in Paradise, and Lee's past racist tweets resurfaced shortly after the season began airing. And Lucas was... well, he was just really annoying.
Rachel got to confront both Lee and DeMario during Monday's Men Tell All. She called DeMario out for coming on the show already having a girlfriend to stir up drama, and offered to give Lee a black history lesson after learning about his racist tweets.
Thankfully, these dudes are all in Rachel's past, and she did manage to find the guy she wants to marry among the batch... we just still don't know who he is yet. It's down to either Bryan, Eric, or Peter to propose to Rachel in the season finale, and at this point it's anyone's guess which of these three is going to come out on top. We just have to wait one more week to finally find out!