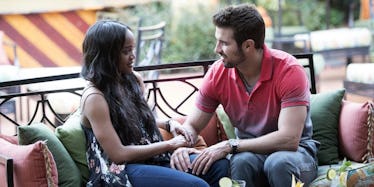 Bryan Meets Rachel's Friends On 'The Bachelorette,' So It's Getting Serious
ABC
Well, we're down to just three men on Rachel Lindsay's The Bachelorette and things are getting competitive. But Rachel may have just dropped a hint that Bryan could be her front-runner — Bryan met Rachel's close friends, while Peter and Eric did not.
In a recent Instagram post, Rachel explained why these two ladies are so important to her,
This lady right here is 1/2 of the dynamic duo that is @ryssjane and @lctow and together they signed me up for The Bachelor and forever changed my life! Catch them TONIGHT 8/7pm central on @abcnetwork for a NEW episode of The Bachelorette as they help me on my journey.
All three of the guys went to Dallas to meet with Rachel's family, and Bryan was the one who had the roughest time by far. (He actually walked out of the family dinner, and yes, it was as awkward as it sounds.)
But Bryan might just be the one to get the last laugh because, as fans on Twitter noticed, he was the only who Rachel deemed worthy enough to meet her two close friends.
It definitely seems like a pretty big deal that Bryan got to meet Rachel's friends, especially considering how important they seem to Rachel. And to make matters even worse (or better, I guess, if you're a Bryan fan, but it is my understanding that no one is Bryan fan), Rachel's friends seemed to really like Bryan.
They complimented him on being straight forward and not beating around the bush.
Rachel's family, however, seemed to feel the exact opposite way about Bryan. Rachel's older sister Constance straight up told him that she couldn't trust Bryan to be genuine to his face. And Rachel's mom was hitting Bryan with these aggressive questions about whether he would choose his mom over Rachel.
It's definitely a tough position for Rachel. She seems to really love Bryan, and friends' approval is important, but it's hard not to listen to your family.
I'll guess we'll have to wait and see who she sides with!