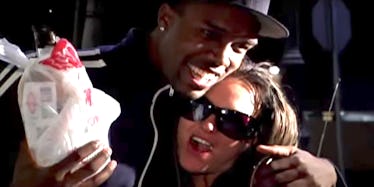 'Bachelorette' Contestant DeMario Hitting On Britney Spears Is Hilarious – VIDEO
YouTube
DeMario Jackson has been the name on everyone's lips in Bachelor Nation over the past few months, but it turns out the executive recruiter isn't exactly new to chasing high-profile, celebrity relationships. A video shows DeMario hitting on Britney Spears nearly ten years ago in front of paparazzi.
Over the weekend, paparazzi site x17 shared the 2008 paparazzi video of DeMario Jackson introducing himself to Spears, declaring that he's an actor who wants to be seen on TV, and insisting that she save his phone number.
Unfortunately for DeMario, Britney is not very receptive to his advances. Check out the video below.
Did you catch all that? Here's what DeMario was saying to Britney:
Hey Britney, you need a black dude. Real talk, take down my number. Take down my number right now, I'm dead serious. My name's DeMario Jackson, I'm an up-and-coming actor, I want to be like you. I want everyone to see me on TV. Real talk, you're dope.
Although DeMario got a hug, Britney clearly was not a fan of his aggressive approach, and gave the camera one of her famous cringe faces.
Of course, DeMario's dream of everyone seeing him on TV did come true this year, although much like Britney in the late-aughts, he's been appearing on more tabloids than TV screens. DeMario appeared on the first couple episodes of Rachel Lindsay's season of The Bachelorette, before he was booted for having a girlfriend outside of the show.
But that didn't stop DeMario's grind. He joined the cast of the fourth season of Bachelor in Paradise, but immediately found himself embroiled in drama when rumors of a questionable sexual encounter between himself and castmate Corinne Olympios halted production.
After an investigation ruled there was no misconduct between DeMario and Corinne, Bachelor in Paradise resumed filming, although both DeMario and Corinne will only be back for the post-show reunion special.
So things haven't really worked out for DeMario finding love on TV just yet. Maybe he should try to run into Britney again?