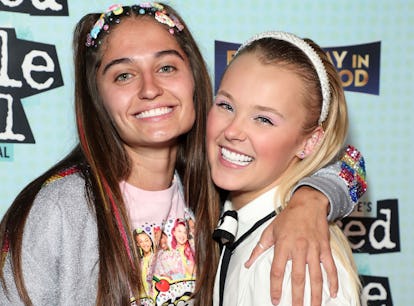 Jojo's Messy TikTok Gives Details On Her Breakup With Avery
Including an unplanned hookup.
Chelsea Lauren/Shutterstock
As quickly as it started between JoJo Siwa and Avery Cyrus, it's ended — but you might have missed the super subtle breakup announcement. The couple didn't have a big, dramatic split, but rather casually revealed they'd gone their separate ways in the comments section of a TikTok. Unfortunately, Siwa and Cyrus' breakup drama only got more tense from there — especially when Siwa's mom got involved. (Yes, really.)
ICYMI, the relationship status update came in a blink-and-you'll-miss-it moment in Cyrus' Dec. 17 video chronicling her recent tropical vacation. In between clips of the TikToker surfing, riding water slides, and jumping off boats, fans noticed an eyebrow-raising moment with Siwa. "This is my 'I'm sorry for breaking up with you' present," Siwa said in the video, holding up an arcade prize. Immediately, the comments section was flooded with confused viewers wondering if Siwa's statement was an inside joke or real confirmation of a breakup. Cyrus explained that the two have indeed ended their relationship in the comments.
"We decided that we are better off as friends," Cyrus wrote in response to a commenter. "We are both so young and still just trying to figure our stuff out!" The breakup came a little over three months after Siwa and Cyrus went official in a kissing TikTok back in mid-September. Fans suspected the two may have been dating a bit longer than that, though. They started frequently appearing in each other's TikToks in early August, sparking tons of romance rumors a month before they finally confirmed they were a couple.
Here's where the post-breakup sitch starts to get messy. To backtrack a bit, on Dec. 16, Cyrus posted about being in her "healing era" but being distracted by a "cute girl." Then, on Dec. 19 (two days after the breakup announcement), she posted with her ex Soph Mosca, whom she dated for two years before Siwa.
It's not just that Cyrus and Mosca were hanging out again. They were also planning on taking a romantic trip to Europe, blaming it on the fact that they booked a "nonrefundable vacation" while still together. Mosca wrote on TikTok that although she didn't take Cyrus back, they were traveling together. "PSA don't book a trip too far in advance or you might get stuck going with your ex," Mosca wrote. Cyrus posted a similar video, adding, "What are the odds she kills me on this trip."
Apparently, Siwa didn't appreciate their timing. On Dec. 19, Siwa's mom posted an Instagram Story featuring her daughter mid-venting session. When asked why she was "mad," Siwa replied, "Because I got used... for views and for clout." She added, "I got tricked into being told I was in love and I got f*cking played." Oooof.
Cyrus has since weighed in, saying she's still struggling with the breakup. "From my perspective, me and JoJo left on great terms and are still friends," she told E! on Dec. 20. "I'm still very hurt that JoJo broke up with me, and I'm saddened and confused by the situation."
Siwa didn't let that particular comment slide, though. Taking to TikTok on Dec. 20, she revealed the reason behind their split: "You told one of my best friends that you were excited to be dating me bc you're 'growing your career and want to get to the top.'" She spilled some more tea in her caption, writing, "And when I said I just wanted to be friends so I didn't lead you on after an unplanned hookup you wanted nothing to do with me because there was nothing to gain anymore."
This article was originally published on