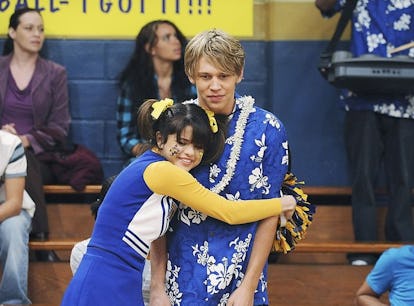 Just A Reminder That Austin Butler Was In So Many Classic Disney & Nick Shows
TBT when he dated Sharpay Evans.
Disney Channel
Austin Butler finally got his big break in 2022 by starring in Elvis, and while playing the King of Rock 'n' Roll is undoubtedly massive, many of Butler's past parts are an even bigger deal to the generation who grew up on Disney Channel and Nickelodeon. After getting his start as a teen actor, Butler spent the bulk of the late 2000s and early 2010s popping up in guest spots on beloved shows. Though his parts may not have always been the biggest, Butler's pre-Elvis TV and movie roles are still truly iconic pieces of nostalgia.
Before he was accepting the movie industry's biggest awards in his now-famous Elvis voice, Butler was bouncing around Disney Channel, Nickelodeon, and The CW with roles in some of the most beloved shows of the aughts. He's shared scenes with so many superstars of the era, from making Selena Gomez and Miley Cyrus swoon on screen, to intimidating Nick Jonas with his beach bod. Butler has come a long way since his TV guest spot days, which is what makes them even more fun to look back on. But of course, some were more memorable than others — so before we get to the ultimate throwback Austin Butler show, let's start off with some of the lesser appearances.
12. Are You There, Chelsea?
Butler played a role he knows very well when he showed up in one episode of Are You There, Chelsea?: the heartthrob. As the teen pop singer Luke, Butler got to show off his musical abilities... and also his comedic chops when it's revealed his character is super religious. It's a great episode to seek out for Butler superfans who love a silly sitcom.
11. Ned's Declassified School Survival Guide
Butler's first-ever TV role is one you probably missed, even though he appeared on over 40 episodes of a hit Nickelodeon show. That's because Butler was an uncredited background character on Ned's Declassified, only rarely getting any significant screen time. It may have been a small part, but it's still pretty major that he was on Ned's Declassified.
10. Jonas
It takes a special type of hunk to make the Jonas Brothers feel insecure about their looks. Butler guest-starred on the boy band's Disney series Jonas as a playboy surfer who doesn't waste any time showing off in front of Nick's crush.
9. Wizards Of Waverly Place
The only guy to ever crack Alex Russo's tough, sarcastic exterior was Austin Butler's one-episode character George. When the peppy marching band conductor rejected Alex's advances due to her negativity, she cast a spell on herself to become extremely positive. Of course, it backfired, but Butler's guest spot was still magical.
8. Life Unexpected
One of Butler's earliest main roles was in The CW's 2010 teen drama Life Unexpected. He played the popular high school quarterback Jones, who defied stereotypes by getting close with the new girl Lux. The show was short-lived, but it's still a must-watch for fans of Butler.
7. Hannah Montana
Butler's cameo on Hannah Montana was pretty memorable, even if he was only in one scene. His character, Derek, has the dishonor of being Miley Stewart's worst date ever, after he got so scared watching a horror movie with her that he jumped in her lap screaming.
6. iCarly
One of Butler's first major guest spots also let him show off his singing voice. On iCarly, he played the school's resident hottie Jake, whom Carly tried to impress by offering him a spot to perform on her web show. Only later did she discover he was a terrible singer, but she managed to fix things with some quick AutoTune.
5. Once Upon A Time... In Hollywood
Right before he was cast in Elvis, Butler had a part in his first huge, star-studded movie, Once Upon a Time... in Hollywood. Butler's role as the Manson Family gunman Tex was pivotal in the action-packed climactic scene, marking his first big step into his movie star era.
4. Switched At Birth
Butler became the bad boy with a heart of gold in ABC Family's teen drama Switched at Birth. As the aspiring rock star Wilke, he started off just as the friend of main character Daphne's older brother, until their relationship evolves into so much more.
3. Zoey 101
Butler threw a major wrench into the central romance of Zoey 101 when he showed up as the suave new kid James in the Nick sitcom's final season. As Zoey and Chase drifted apart, James turned their relationship into a love triangle, taking Zoey out on dates and even telling her he loves her. Of course, Zoey was always going to choose Chase in the end, but the romantic drama Butler brought to Zoey 101 will always be iconic to Nickelodeon viewers.
2. Sharpay's Fabulous Adventure
There are a number of reasons Butler starring in this 2011 straight-to-DVD High School Musical spinoff is iconic. For one, most people probably didn't even know the movie existed, let alone that it packed so much star power. Butler had also just begun dating HSM star Vanessa Hudgens at the time, so he was truly in full Wildcat mode.
1. The Carrie Diaries
Step aside, Big and Aidan, because Carrie's true best boyfriend was portrayed by none other than Austin Butler. His most iconic TV role by far was as brooding bad boy Sebastian Kydd in the Sex and the City prequel series The Carrie Diaries. Carrie and Sebastian's always-turbulent but endlessly-steamy relationship brought the messy, intoxicating joys of SATC into a whole new generation, and for that, Austin Butler will forever be an icon.