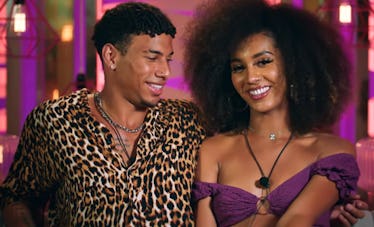 Christine's IG Could Hint At If She's Still With Louis After THTH
This couple definitely brought the chaos this season.
Netflix
There's always that one couple on each season of Too Hot To Handle that just totally steals the spotlight, and in Season 5, that was clearly Louis and Christine. The constant rule-breakers simply couldn't keep their hands of each other, and that wasn't the only reason they were at the center of pretty much all the drama in the villa. But despite the chaos, they actually seemed to end up in a really good place, and agreed to try to make things work in the real world after the show. But did they actually make it work? Here's what we know about whether Louis and Christine are still together after Too Hot To Handle Season 5.
Things started off a bit awkward for Louis and Christine, as Louis wound up choosing Hannah over her initially. But Christine wasn't deterred from her mission to have Louis for herself. She launched a full charm offensive on the British footballer to seduce him away from Hannah, and locked him down as her man for the rest of the season. But her trust issues and Louis' wandering eye were put to the test when Louis got a bit too flirty with new addition Linzy. Christine ended things with Louis over the indiscretion, but the breakup didn't last long. Though they didn't seem super secure at the end, it did sound like they at least had a fighting chance to keep their relationship going outside of Lana's villa.
Neither Louis nor Christine has confirmed their relationship status after Too Hot To Handle just yet, but from a scan of their Instagram accounts, it doesn't feel super likely that they are still an item. Though Louis does follow Christine, she doesn't follow him back. Christine has also been sharing tons of pics hanging out with her fellow Season 5 castmates, but Louis is nowhere to be seen. He did express some support by liking a photo of Christine and Hannah squashing their beef, but there hasn't really been any interaction beyond that. For her part, the only IG post of Louis' that Christine has commented on is a trailer promoting Too Hot To Handle... not very personal.
It wouldn't be all too shocking to learn that Louis and Christine called it quits shortly after returning home, but we won't know for sure until they officially let us know. Now that Season 5 is over, hopefully that announcement is coming very soon.