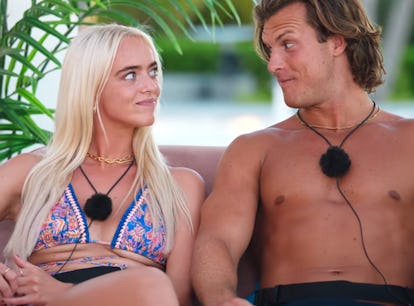 Elys & Alex Found Love In Too Hot To Handle, But Did It Last?
I'm really rooting for these two!
Netflix
Spoiler alert: This story discusses how Too Hot To Handle Season 5 ends, including its winner.
Too Hot To Handle doesn't exactly have the greatest track record when it comes to creating real relationships. In the first four seasons of the dating series, only two couples have stood the test of time in the real world (shoutout to Kayla and Seb and Emily and Cam), but it really felt like Season 5 may have added to those success stories. Especially with Elys and Alex, the goofy duo who didn't exactly hit it off at first, but ended up becoming the season's strongest love story. Naturally, the biggest question following Season 5's finale is if Elys and Alex are still together following their time on Too Hot To Handle. So, it's time to investigate.
It wasn't really love at first sight for Elys and Alex. Well, for Alex it was, but Elys was more focused on Hunter at first. She also had an intense aversion to following any of Lana's rules, constantly hooking up with Hunter without any remorse. But when the makeout sessions stopped, Elys began to realize she didn't really have a connection with Hunter beyond the physical and began to get more serious with Alex.
The emotional openness paid off, as the two wound up becoming boyfriend and girlfriend, with the pair even saying "I love you" to each other in the end. Their romantic progress was so impressive, Elys won the whole season, taking home $50,000 after graciously splitting her grand prize with her fellow finalist Dre.
While their love seemed very strong at the end of Too Hot To Handle, there were also a few issues bubbling under the surface for Elys and Alex — particularly, Alex's fear that a relationship would interfere with his constant travel plans.
As for Elys and Alex's relationship after the show, they do follow each other on Instagram, and often leave cheeky comments on each other's posts. However, their recent travel plans haven't lined up. In the past year, Alex has posted photos from his trips to Croatia, the Canary Islands, and Mexico. But at the same time as those trips, Elys was posting about her own vacations in Ibiza, London, or chilling back home in Switzerland.
Elys confirmed to Elite Daily that while she and Alex did continue dating for half a year after the show filmed, they are no longer in a relationship. "We stayed together just under six months after filming," Elys says. "It was a very fun six months — very fiery and passionate. But with me traveling so much and us doing long-distance, it just didn't work. We're still on great terms, which is really nice."
So, unfortunately, the Too Hot To Handle experience didn't work in creating a lasting bond for Elys and Alex, but they're apparently still close and traveling the world on their own terms.
Additional reporting by Sarah Ellis.