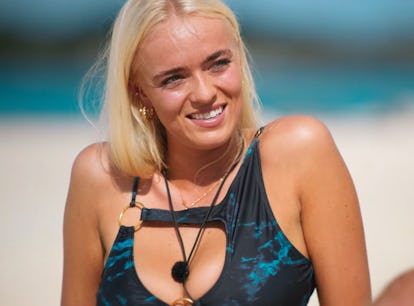 Elys Is The Main Character In Too Hot To Handle's Best Love Triangle
The blonde bombshell has two guys wrapped around her finger.
Netflix
Messy situationships are nothing new in the Too Hot To Handle villa, but Season 5 took things up a notch with one of the show's most engaging love triangles to date. And at the center of it all is Elys Hutchinson. The Swiss model caught the eye two hunks who had very different styles of connecting with her, forcing her to face one of the toughest dating questions of all: is physical attraction more important than a personality match? If you've also fallen for Elys' charms, here's everything to know about the Too Hot To Handle Season 5 star.
Elys wasted absolutely no time in breaking Lana's rules... twice! Her attraction to surfer bro Hunter was so strong that they hooked up the very first night in the villa, mere hours after being told all sexual activity was against the rules. The next morning, she went at it again with Hunter on the beach, immediately costing the group $12,000 right at the start of the retreat.
Her inability to keep her hands off Hunter underlined the main tension Elys began to wrestle with in the villa. She felt an animal magnetism towards Hunter, but their conversations never went deeper than awkward surface-level chatter. However, though she wasn't as physically into Alex, he had a knack for making her laugh and connecting with her better in terms of communication.
While you wait to see who Elys will end up choosing, here are the background details about her life that you should know about.
Too Hot To Handle Season 5's Elys Hitchinson's Job
As she mentioned in her intro, Elys is a ski instructor based in Lausanne, Switzerland. She's also a fashion model who's been working in the industry for a decade. She signed to her first modeling agency at age 13, she revealed in a 2014 interview.
Too Hot To Handle Season 5's Elys Hitchinson's Age
Elys is 23 years old. Her birthday is on Aug. 8, as she revealed in a celebratory Instagram post, making her a Leo.
Too Hot To Handle Season 5's Elys Hitchinson's Instagram
Elys' Instagram is full of modeling shots, foodie pics, and scenic views from her vacations.