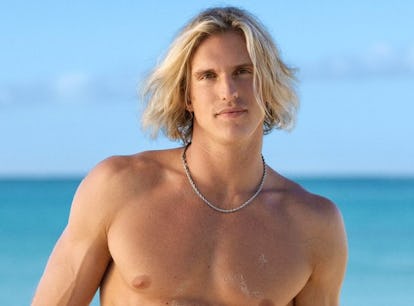 Hunter On Too Hot To Handle Is The Ultimate Himbo
The king of himbos is here.
Netflix
Another season of the popular reality dating show Too Hot to Handle, another group of singles who are tricked into thinking they are going to be on a tv show about pleasure and hook-ups when in reality, they are being monitored by a robot and forced to restrain themselves...though we know that that never works for some cast members. When the Too Hot To Handle Season 5 trailer was released by Netflix a week ago, it was clear that audiences were in for a fifth round of watching people try, fail, and try again to remain sexually inactive amongst their attractive castmates. It seems like this season, per usual, is filled with people ready to party, but will they be ready to talk about their feeling and change their mindsets on relationships while following talking robot Lana's rules?
One cast member stands out in particular, Hunter LoNigro, this season's resident bad-boy. LoNigro is already shaping up to be trouble in paradise while he tries his chances with the women in the hopes of coming out on top without spending all of the prize money on quickies in the hot tub. I guess we'll see if he's in it to win it. Here's what we know about him...
Too Hot to Handle's Hunter LoNigro's Instagram
With a little over 42,000 Instagram followers, Hunter's bio proclaims him as a "Full-Time Fun-Haver" which can only mean trouble for the islanders... and the money prize.
Too Hot to Handle's Hunter LoNigro's Real Job
Hunter works as a social media influencer using his page to share flicks of him snorkeling, surfing, and being one with nature.
Too Hot to Handle's Hunter LoNigro's Age
The Arizona boy is 24 years old, given that he celebrates his birthday on Instagram in early November. (His actual birthdate isn't anywhere to be found on the Internet...yet.) If this is the case, LoNigro would be a Scorpio, which explains his bad-boy behavior and sexual prowess.