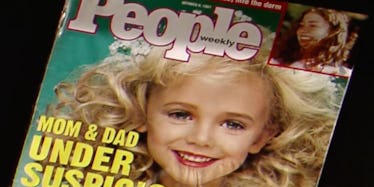 A New JonBenét Ramsey Documentary Is Coming To Netflix, So That Makes 5
A&E
MORE! MORE! MORE! GIMME DEM JONBENÉT RAMSEY DOCUMENTARIES!
If JonBenét Ramsey true crime documentaries were currency, 2016-2017 would be ROLLIN' in $$$$$$.
Last year alone, four different networks ran specials about JonBenét's death and the unsolved murder during the 20th anniversary.
CBS ran "The Case of: JonBenét Ramsey" and A&E had "The Killing of JonBenét: The Truth Uncovered," while both Lifetime and NBC's "Dateline" aired specials called "Who Killed JonBenét?" (I'm assuming both Lifetime and NBC don't have access to Google or this wouldn't have happened.)
Now Netflix is getting in on the trend.
The web streaming service announced it too would be getting in on that JonBenét Ramsey cash cow, acquiring Kitty Green's documentary on the case, "Casting JonBenét," which is described as,
Sly and stylized exploration of the world's most sensational child-murder case.
According to Vulture, Green did not have any access to the officers involved with the case or the Ramsey family for the production.
Instead, her documentary involves trips she made to Ramsey's hometown in Colorado to talk with neighbors from the area.
She reportedly was looking to see how other townspeople reacted when they talked about the 1996 murder that took over American media.
"Casting JonBenét" combines both fiction and non-fiction elements for its style of storytelling.
It's premiere is set for Sundance later this year, with a theatrical release coming sometime in the spring.
The resurgence of JonBenét documentaries have not been without its fair share of controversy.
CBS is currently involved in a $750 million lawsuit with JonBenét's brother, Burke, who claims his reputation was ruined by "The Case of: JonBenét Ramsey."
In the special, which featured investigators examining new evidence and reexamining older clues, the panel came to the conclusion that Burke had accidentally killed his sister with a flashlight during a fight over a plate of pineapple.
According to the lawsuit,
The accusation that Burke Ramsey killed his sister was based on a compilation of lies, half-truths, manufactured information, and the intentional omission and avoidance of truthful information about the murder of JonBenét Ramsey.
Katy Perry has not yet commented on the story.
Citations: Netflix Is Feeding the Non-Stop JonBenet Ramsey Frenzy With a New Documentary (Vulture)