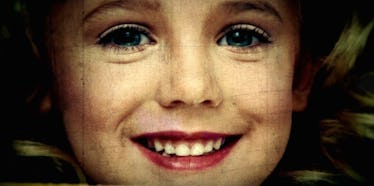 The New Trailer For The JonBenét Ramsey Docuseries Will Give You Goosebumps
CBS
The first trailer for "The Case of: JonBenét Ramsey" just released, and holy eff is it absolutely terrifying.
The 1996 murder of JonBenét Ramsey is arguably one of our nation's oddest cultural touchstones.
Not unlike the OJ Simpson case or even the Oklahoma City bombing, the disappearance and subsequent unsolved murder investigation of the 6-year-old beauty queen kept America absolutely enthralled for months and years after the case went public.
On September 18, CBS will embark on a small journey to try to add some closure to the case after 20 years, through a reexamination of evidence from the cold case.
The investigation series is being led by former FBI supervisory special agent and statement analyst Stan Burke and Scotland Yard criminal behavioral analyst Laura Richards.
Throughout the six-hour season, they will be joined by a series of retired prosecutors, FBI agents, investigators, forensic specialists and legal professionals all trying to definitively decide who murdered Ramsey.
The docuseries comes in the midst of a media true-crime resurgence, with series like "Making a Murderer," "Serial" and multiple documentary shows dealing with the OJ Simpson trial all garnering massive followings.
The JonBenét Ramsey case will also be getting a Lifetime movie starring Eion Bailey, set for release this fall.
There seems to be a small group of people on Twitter who think a series devoted to Ramsey is a little overkill at this point.
Others are having the exact reaction most of us probably had.
Katy Perry has not yet released a statement on the series.
Citations: Theres A Chilling New Trailer For The JonBenet Ramsey Docuseries (Refinery29)