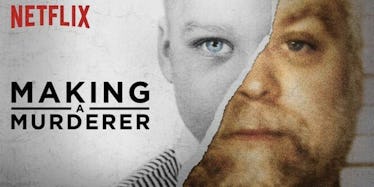 13 Crime Documentaries To Watch After 'Making A Murderer'
Netflix
OK, right at the top here, let me say: I HAVE NOT FINISHED watching Netflix's original docuseries "Making A Murderer" yet.
I'm watching it with my boyfriend, I've been with family for the holidays, and we haven't had a lot of romantic murder snuggle time.
So every day I squint my eyes as I scroll through my news feeds and try to rush past any link or status update that appears to mention the show.
At this point, I sort of feel like the Internet is holding a gun to a kitten's head and telling me I have TWO MORE DAYS to finish this sh*t before they call me up directly to tell me exactly how it ends. And also kill the kitten, I guess.
As something of a true crime buff, I've been aware of the Steven Avery case for a while.
He was pretty infamous for having been exonerated by DNA evidence after serving 18 years for a crime he didn't commit, only to be accused of an even more heinous crime after his release from prison.
So when Netflix sent me an email saying it had a new series I "might be" interested in I was like "A-duh, Netflix. Already on my calendar."
Let me say at this point that I do not support murder in any way. It's real bad. But I do find myself oddly...comforted by watching and reading about it.
If I've had a bad day, there's nothing I want more than to settle down with a good crime documentary. I guess it reminds me that whatever problems are going on in my life, at least I'm not being BRUTALLY murdered. I mean, that would always be worse.
And like many people, I'm fascinated by the criminal mind and the aberrations that lead a seemingly ordinary human being to commit evil acts.
And I am also interested in the shortcomings of the criminal justice system and the way it tends to serve people in positions of power while so often snowing poor people and people of color.
So, for those of you who have already raced to the finish line of "Making a Murderer" (NO SPOILERS PLEASE), here are 13 more fascinating crime documentaries (in no particular order) to keep you in the creeped-out spirit.
All are available to stream either on Netflix, Amazon, online or On Demand cable channels.
1. "The Staircase"
Most similar in structure to "Making a Murderer," "The Staircase" is an eight-part series about Michael Peterson and the aftermath of his wife Kathleen's mysterious death. When she's found dead at the bottom of a staircase in the family home, Michael Peterson quickly becomes the top suspect.
Much like "Making a Murderer," this documentary is mostly a courtroom thriller, unique in its access to the Peterson family and the unvarnished strategizing of the defense team.
Also, what's up with the last name "Peterson"? Scott Peterson murdered his pregnant wife. Drew Peterson possibly killed two of his wives. Any Petersons out there willing to speak up for yourselves?
2. "Tales Of The Grim Sleeper"
An HBO documentary from Nick Broomfield of "Kurt and Courtney" and "Biggie and Tupac" fame, this film follows the long-delayed arrest of a suspect in a series of murders of impoverished black women in South Central Los Angeles from 1985 to 2007.
Despite the fact that the "Grim Sleeper" is suspected of at least 100 murders over two decades, the overwhelming feeling in the community is that the police spent little time seeking justice for the victims, many of whom were prostitutes and/or addicts.
I find Broomfield's approach to filmmaking a bit annoying, but this documentary is truly made by his recruitment of Pam Brooks, a former prostitute and recovering addict, who gives the filmmakers inroads into the tightly knit community and manages to bring out information on both The Grim Sleeper and his victims that was hiding in plain sight all along.
3. "The Imposter"
The film specifically focuses on the remarkable story of Bourdin's impersonation of missing Texas teen Nicholas Barclay, whom he randomly chose from a missing children's database.
Despite the fact that Bourdin has a French accent and a different eye color than Barclay, he is flown to the US and moves in with the Barclay family, who accept him as their missing son, even as he weaves stranger and stranger tales of child prostitution rings and being forced to take drugs that changed his eye color and wiped his memory.
4. "Dear Zachary"
It's created and directed by Kurt Kuenne, whose close friend Andrew Bagby was murdered by his girlfriend, Shirley Jane Turner, after Bagby broke up with her. Turner then announced that she was pregnant with Bagby's baby.
The film traces the custody battle between Turner, who was jailed and eventually released on bail, and Bagby's parents, all leading to a horrifying, tragic ending.
5. "There's Something Wrong With Aunt Diane"
On  July 26th, 2009, something caused 36-year-old Diane Schuler to drive 1.7 miles in the wrong direction down the Taconic State Parkway, ultimately resulting in a crash that caused the deaths of eight people, including Schuler herself, her daughter and her three nieces, all of whom were under the age of 10.
The toxicology report indicated that Schuler had a blood alcohol level of 0.19 and high levels of marijuana, but Schuler's grieving husband refuses to believe the results.
The resulting documentary is deeply sad, unsettling and leaves the viewer with questions that will unfortunately never be answered.
6. "TalhotBlond"
Another story for the "stranger than fiction" files, this documentary covers the sensational online love triangle between married father-of-two Thomas Montgomery, his 22-year-old co-worker and "Jessica," a beautiful 18-year-old who captures the attention of them both.
Montgomery, however, is posing as "marinesniper," an 18-year-old soldier. When the fantasy falls apart, deceptions and jealousies lead to murder, and a twist ending that I won't ruin for you if you don't already know it.
7. "A Murder In The Park"
Just days before his execution, Anthony Porter's life was saved by new evidence unearthed by a Northwestern University journalism class.
Their investigation eventually led to Porter's release and the imprisonment of another man, Alstory Simon, who confessed to the crime.
There's just one problem; Simon's confession was coerced, and the state had the right man all along.
8. "Prophet's Prey"
A Showtime original documentary, "Prophet's Prey" tells the story of Fundamentalist Church of Latter Day Saints' leader Warren Jeffs and his many abuses against his followers, from child molestation to murder.
From prison, he continues to run the cult-like religious group, whose members practice plural marriage, home-school their children and turn over all their earnings and belongings to the church, a multi-million dollar entity.
9. "Thought Crimes: The Case Of The Cannibal Cop"
This HBO documentary by young filmmaker Erin Lee Carr tells the story of Gilberto Valle, an NYPD officer who made splashy national headlines in 2013 after he was convicted of conspiring to kidnap women. Oh, and eat them.
Quickly dubbed "The Cannibal Cop" by the tabloids, Valle insisted that his crimes, consisting partly of deeply disturbing postings and conversations on online fetish sites, was all just fantasy, raising questions about the line between thinking about a crime and actually intending to commit one.
10. "Central Park Five"
Filmmaker Ken Burns revisits the infamous 1989 "Central Park" jogger case, in which five black and Hispanic teenagers were coerced by police and wrongfully convicted of raping a white woman and leaving her for dead.
The case caused a tabloid sensation, with the media coining the term "wilding" as a description for the alleged activities of the group of young teens, who were treated as a wild gang of roving marauders, assaulting joggers and bicyclists in the park just for fun.
In 2002, another man confessed to the crime, and DNA evidence backed up his story. The original convictions were reversed, but lawsuits are still pending against the state.
11. "Cropsey"
Staten Island filmmakers investigate the childhood lore of "Cropsey," an escaped mental patient who allegedly snatched children off the street at night.
There turns out to be more to the tale than just urban legend, and the film untangles fact from fiction in the case of Andre Rand, the suspected serial killer who really was kidnapping and murdering children in Staten Island in the '70s and '80s.
12. "The Jinx"
If you haven't heard about the documentary series profiling Robert Durst, millionaire real estate heir and likely three-time murderer, and it's uniquely satisfying ending, then I'm really glad you're reading this article because you are starting from square one.
I was lucky enough to watch this one in real time and see the final episode before the spoilers started flooding in, and the cliché about being "on the edge of my seat" was fully accurate as I watched the final moments.
HBO filmmaker Andrew Jarecki (who also directed "Capturing the Friedmans," another creepy crime doc) actually manage to use the six-episode series to get real-life justice for the victims of Durst's long-unpunished crimes.
13. "The Cheshire Murders"
This documentary covers what is truly one of the most chilling crimes I've heard about, a rape-arson-murder undertaken by two ex-convicts who kept a family of four imprisoned in their own home, beating and binding the father of the family, Dr. William Petit, to a pole in the basement while they sexually assaulted his wife and younger daughter.
One of the criminals then drove the mother, Jennifer Hawke-Petit, to the bank, where she withdrew $15,000 and attempted to signal to the clerk that she was in trouble. Though police were dispatched, Dr. Petit was the only survivor after the criminals doused the home in gasoline and set it on fire.
It's hard to imagine how someone goes on with his life after something so traumatic, but Dr. Petit seems to bear the burden as gracefully as possible, becoming a public speaker and advocate for the death penalty.
This is in no way a comprehensive list of great true crime documentaries -- I could probably do whole other article on them if you guys are interested.
What are some of your favorites? Are you into true crime, or am I a horrible person for my being obsessed?