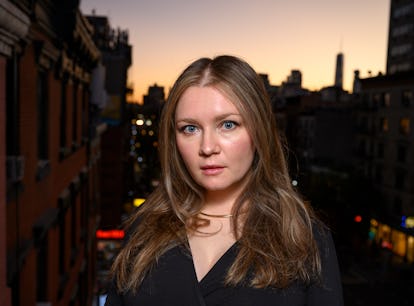 Anna Delvey Is Making A Reality Show While On House Arrest
OK, I do have time for this.
Variety/Variety/Getty Images
Netflix courted controversy with its smash hit Inventing Anna, the Shondaland-produced docudrama retelling the story of Anna "Delvey" Sorokin. The debate was less about the series itself than the streaming service's willingness to pay Sorokin a lump sum for the rights to her story, allowing her to profit off her messy past. (And that accent, of course.) However, there may be more streamers paying Anna Sorokin, as her new reality series, Delvey's Dinner Club, is currently in the works while she's under house arrest.
Inventing Anna was such a hit, Sorokin initially announced she would do her own docuseries retelling her story in the days immediately following the show's debut. That never materialized, but her aim to turn her story into fame found a new platform: reality TV. According to Variety, her new show is titled Delvey's Dinner Club, and it will take advantage of her being under house arrest by filming on location in her apartment in New York City's East Village. The show will center around "invitation-only, intimate dinners at her home," according to a press release announcing the project. "There, a Delvey-invited group of actors, musicians, founders, socialites, journalists, and other esteemed guests."
Here's what else is known so far about the show.
Delvey's Dinner Club Filming Updates
The series was initially announced to be headed for production on Jan. 25, 2023. Like the original docudrama Sorokin had claimed to be making, the new series will give her a chance to control the narrative and her story. She'll also apparently use the show to talk about hot-button topics like reforming the criminal justice system, as well as what plan she has once her house arrest ends. The series does not yet have an announced date for filming to start.
Delvey's Dinner Club Trailer & Release Date Predictions
Sorokin's new series isn't coming from a streamer-slash-production studio like Netflix, but rather an independent studio — in this case, the French outfit Butternut — so it's expected to be filmed first, then shopped out to the highest bidder. This means the series doesn't have a home yet, like Netflix or HBO Max, making it difficult to guess how long until it premieres.
That said, filming a series like this is not expected to be a huge lift; eight dinners will make eight episodes, so once the series gets going and shows footage around to interested parties, the series should arrive pretty fast from whoever picks it up.